An NGO, Alliance for Positive Environmental Impacts and Reforestation (APEARE), Ibadan in Oyo State, on Saturday, August 6, 2022, sensitised women, youths and community leaders at Eleyele area, on the need to stop illegal cutting trees (deforestation).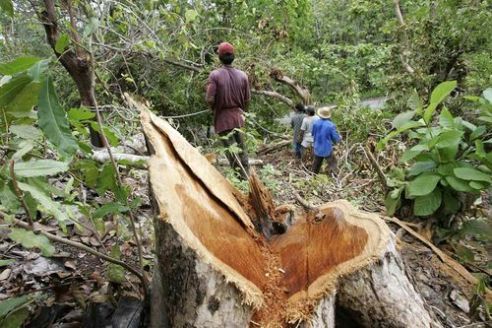 APEARE focusses on the activities that can help man, community and the nation to adapt to and mitigate against climate change in decisive, effective, and sustainable ways.
The Programme Coordinator, Mr Debo Ajenifuja, said the sensitisation was to enlighten the people about sustainable utilisation of forest resources, protection of water bodies, campaign against indiscriminate dumping of refuse, among other issues.
Ajenifuja said: "Deforestation is a major driver of climate change and the geometric increase in the price of cooking gas as being witnessed in Nigeria today.
"It will leave most of the populace with no other cheaper alternatives than the use of charcoal and wood as source of cooking fuels.
"This will further increase the rate of deforestation."
According to him, from our assessments, we identified women as active player in the sales of wood; we are sensitising them on the practices of reforestation to help replenish the fallen trees for fuel.
"They will be enlightened on importance of trees to the environment and why they should plant more than they felling.
"It is to inform one of the active players in cooking fuel value chain (the women) on the need to replace/replant trees.
"This will reduce the women's total dependence on fuelwood as a source of income by introducing them to the values and production of Non Timber Forest Products (NTFPs) such as briquettes making and mushroom cultivation as an economic alternative to sale of fuelwood and charcoal," he said.
Ajenifuja said the programme would also help women to identify more revenue streams and reduce dependence on sales of wood.
He added that it would help the community to achieve a safe and pollution free environment, because "trees are sinks for carbon".
"It will help increase the resilience of the nation to the impacts of climate extremes.
"For example, trees serve as wind break; they also play a major role in erosion control.
"At APEARE, one of our programmes is REDD-ECONS, which stands for Reducing Emissions from Deforestation and Forest Degradation by provision of econoomic Alternatives.
"So, we are planning further trainings on briquettes as an economic alternative to sale of fuelwood," he said.
One of the Women, Mrs Serah Oladele, said she learnt about the effect of cutting trees on the society.
"Now, I know that I cannot cut trees anyhow, because it serves as my means of earning a living.
"APEARE also promised to train us more on how to replant trees and mushroom production.
"I am looking forward to having the training.
"I really thank the organisation for this training, because I never knew my work is having impact on the environment," she said.
By Chidinma Ewunonu-Aluko