The Minister of Water Resources, Mr Suleiman Adamu, says that protection of water catchments in Nigeria, especially in densely populated areas is no longer an option but a requirement.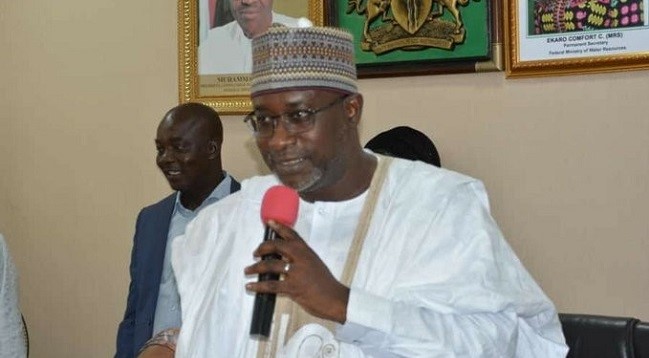 Adamu stated this while delivering a keynote address at the National Validation workshop on the "Draft National Water Source Protection Policy 2020" in Abuja.
He said that while Nigeria appeared to have abundant water resources, its sustainability had been threatened by some environmental factors.
These, he said, included land degradation, deforestation, rapid population growth and other socio–economic development as well as climate change which, he added, had placed tremendous pressure on our water resources.
"Meanwhile, like all critical infrastructure, the technological and national security environment in which Nigeria's Dam and reservoir infrastructure are operated and maintained continue to evolve over time," he said.
According to him, new threats to the continued reliability and integrity of all infrastructure require vigilance; therefore, surveillance detection, identification of site-related emergency response/prevention issues among others should be a major focus.
Adamu said that addressing security issues related to water source, a partnership approach was being proposed, involving the Federal, state, local, or communal government entities, private sector owners, operators and representative organisations.
"Other are academic and professional bodies, and certain not-for-profit and private volunteer organizations that share in the responsibility for protecting the nation's critical sector assets," he said.
Mrs Didi Walson-Jack, the Permanent Secretary, Federal Ministry of Water Resources, in her opening remarks, said that the Draft National Water Source Protection Policy would address the challenges of the sector.
She also said that the past shortcomings in water resources policies, plans and laws had also been addressed.
"I am delighted to note that the Nigeria Integrated Water Resources Management Commission is bringing together relevant stakeholders to discuss and validate the draft national water source protection policy document by committee of experts in Water Resources Development/Management.
"The Federal Government intends to ensure through the provisions of the Policy that all water sources of the nation are regulated, protected, developed, conserved, managed and controlled and used in a sustainable manner for the benefit of all persons," she added.
Mr Bashir Magashi, the Executive Director of the commission, said that it had become pertinent to finalise the policy and speed up its approval to begin enforcement.
He said that this was because despite all the efforts in the promulgation of various decrees, laws and policies in the past due to some shortcomings, the sector had been faced with a lot of challenges.
"These include polluted water sources, deteriorated asset, weak institutions including Federal, states and local government, as well as international organization and sectoral approaches.
"Today, this national workshop is intended to achieve three objectives, first to familiarise key stakeholders and institutions to the draft policy and its contents.
"Secondly, to finalise the policy and finally to accept and collectively pursue its implementation and enforcement," he said.
By Patricia Amogu