Passionate African journalists who are excited about the health of the planet, future generations and the global discourses around low-carbon, climate resilient and green economic development pathways have been called upon to apply for the 2018 version of the ACCER Awards contest.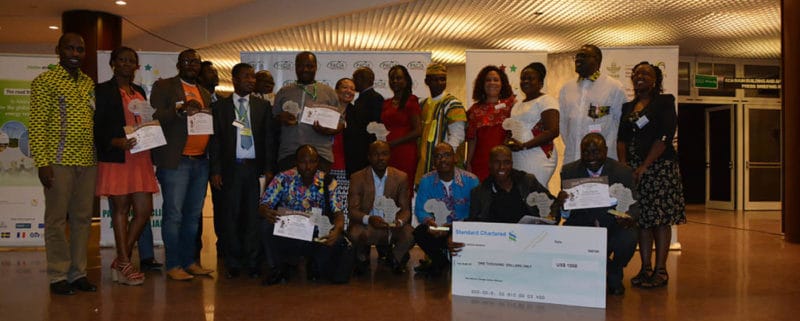 The Nairobi, Kenya-based Pan African Climate Justice Alliance (PACJA), organisers of the annual programme, disclosed that, besides improving capacity in reporting on environment and development issues, successful applicants can win prizes and secure an all-paid sponsorship to attend and cover the United Nations Climate Change Conference in Katowice, Poland in December 2018.
"The ACCER Awards contest offers various opportunities for incentivizing journalists and training them on the salient issues at global stage," said Dr Mithika Mwenda, Secretary General of PACJA, adding that the theme, "Changing the Narrative on Environmental Challenges in Africa: the Case of Pollution", would guide participants' entries and awards based on how they demonstrate information delivery in specified categories.
He listed the categories to include: print, radio, television, photojournalism, and online (multi-media).
According to him, potential awardees are expected to present direct entries with brief citations demonstrating how their journalism may have practically enhanced access to information delivery in a specified area in either English or French.
Award selection criteria, he stressed, is based on: eligibility; originality, structure and quality of writing/broadcast, creativity (use of relevant interviews and examples to illustrate issues); variety of voices/quotes used; fluency (quality of the language- engaging writing/radio style, correct spelling and grammar); and, respect of the prescribed submission format.
The overall prize entails cash reward of $1000; full sponsorship (including return air ticket, accommodation and other living expenses) for UN Climate Change Conference from December 3 to 14, 2018 in Katowice, Poland; fellowship to participate in high-level reporting; and training throughout 2019 courtesy of ACCER Awards Partnership.
Interested applicants can get more information about the ACCER Awards and prizes here: http://www.pacja.org/2018-accer-awards-call-for-entries/