Results from the third confined field trial of the Tela maize project ongoing at the Institute for Agricultural Research has shown that the variety produce more tonnage per hectare than all existing maize variety in Nigeria.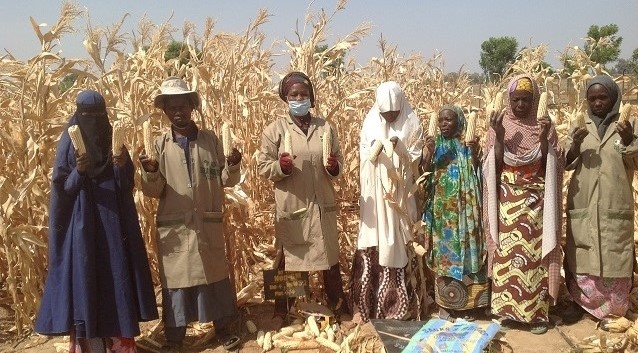 Prof. Rabiu Adamu, the Tela Maize Principal Investigator, said at the harvest of the third trial on Tuesday April 20, 2021 that: "Before now, the highest maize yields ever recorded in the country are less than 3 tons per hectare, But with Tela Maize, we are recording 8 tons per hectare, this more than double of what we got in our farms."
Tela Maize is a genetically modified maize variety that is protected against Fall Army Worm and Stem Borers, the two major challenges militating against production and increase in productivity in maize in Nigeria. It is also said to be able to withstand drought.
Prof. Adamu said the high yield translate into more income, guarantees food security, and boost the economy.
"Nigeria produces only 12 million metric tonnes of maize annually, the country requires at least 18 million, it means there is a deficit of almost 6 million, we need to bridge that deficit and we are hopeful, when Tela Maize is released next year, we will be able to significantly bridge the wide gap between production and consumption," he said.
He said plans are underway to get the necessary certification to deregulate the variety to enable the researchers move it beyond Zaria.
"This trial is under confinement because the crop has not been regulated, after this will go outside the confinement to 'on farm' trials outside Zaria."
According to him, the essence of the nationwide trial is to ensure that the result from other locations correspondent to what was obtained during the confined field trial and that the variety is adaptable to all maize ecologies of the country.
On ground to witness the harvest was Prof. Abdullahi Mustapha, Director General, National Biotechnology Development Agency (NABDA), who was full of praises for the scientists working on the Tela Maize.
"When we adopt this Tela Maize, it means Nigeria will be self-sufficient in maize production that will greatly improve the economy of the country as it will halt capital flight for the importation of maize from other economies. The product is safe because there is no scientific report that says otherwise," he said.
He said the bump harvest witnessed demonstrates the fact that the federal government never made a mistake when it decided to invest in agricultural biotechnology by creating the National Biotechnology Development Agency as well as the National Biosafety Management Agency to promote and regulate the technology in the country.
Also speaking at the event, Dr Rose Gidado, Country Coordinator, Open Forum on Agricultural Biotechnology (OFAB), said farming is more about productivity and yield.
"We know how fall army warm has deviated maize farming in Nigeria and farmers still suffering and by the time this maize variety is ready, and get to farmers, they will smile," she said.