The Organised Private Sector on Water, Sanitation and Hygiene (OPS-WASH) has lauded the establishment of a Public Private Partnership (PPP) styled Infrastructure Company (Infra-Co).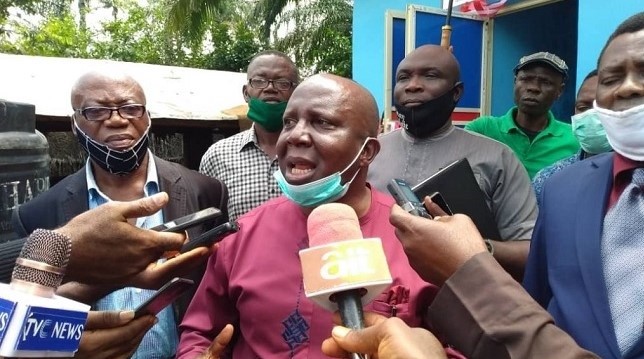 The OPS-WASH through its National Coordinator, Dr Nicholas Igwe, in an interview on Friday, February 19, 2021 in Abuja, called for inclusion of water and sanitation interventions in its implementation.
President Muhammadu Buhari had approved the establishment of Infra-Co with an initial seed capital of N1 trillion to help address the country's huge infrastructure deficit.
Igwe described Infra-Co as an excellent and laudable endeavour with inclusion of PPP in embarking on development projects.
"I am over-joyed to see this strategy being replicated in other sectors both globally and within Nigeria.
"This indeed, is an excellent and laudable endeavor, in that the importance of public private partnerships to embark on development of projects is now reinforced.
"With that, I am aware that road, rail and power are the initial sectors that Infra-Co will focus on, leaving room for other key development sectors.
"It is strongly suggested that due consideration must be given to the Water, Sanitation and Hygiene (WASH) Sector.''
Igwe reiterated that the interventions in the WASH sector had seen the Vice President Yemi Osinbajo chairing the Steering Committee to accelerate improved access, given the State of Emergency declared few years ago.
He, however, called for the WASH sector to be included in the founding of the Steering Committee related to Infra-Co.
"WASH, a key development area being included in structures such as Infra-Co, will go a long way in sustaining financial assistance in the sector and yield profitable returns.
"Roughly, it is estimated that every one dollar invested in WASH has a return of about four dollars.
"In spite of these obstacles that currently exist in the sector, the country has made considerable progress thanks to the strong political drive at the highest level," Igwe said.
According to him, the Nigerian WASH sector should be observed as critical when discussing the development of the country.
Igwe noted that about 47 million people do not have access to basic sanitation infrastructure, with 67 per cent of Nigerians lacking access to a basic water supply.
"Private companies and in some countries finance government officials, tend to shy away from really looking into investing in WASH due to their focus on more 'beneficial' factors of the economy as perceived by them.
"Neglectfully, proponents of this notion forget the fact that human capital is essential to a thriving economy.''
He added that the organisation centered its financial interventions on "Project FLUSHIT", recently inaugurated by Osinbajo.
The project, he said, entails "enhancing social inclusion and poverty reduction, expanding business growth and entrepreneurship, and expanding access to quality education, affordable healthcare and productivity of Nigerians''.
This is set to be achieved under four project pillars of: Tax Credit Schemes, Blue Bonds, Private Sector Partnerships with state governments and the Mobilisation of two million Diaspora Nigerians, local Nigerians and organisations for sanitation adoption.
By Tosin Kolade