In a statement delivered virtually on Thursday, May 12 at the 2022 Public Forum of the Nigerian Academy of Engineering, themed "Climate Change, COP26 and the Nigerian Engineer", Minister of State for Environment, Sharon Ikeazor, explores numerous issues related to the nation's climate change endeavour, saying that increased climate action from the private sector is central to realising the nation's net-zero commitment by 2060 and meeting the Sustainable Development Goals (SDGs)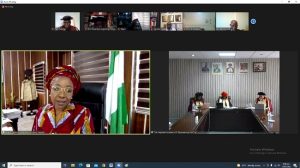 Modern scientific research has established that the release of anthropogenic greenhouse gases into the atmosphere causes global warming which leads to climate change. A major commitment towards curtailing global warming was made at the 21st UN Climate Change Conference of the Parties (COP21) in Paris in 2015, with the signing of the Paris Agreement by 192 countries. The Paris Agreement sets a goal of limiting global warming to well below 2 degrees Celsius and preferably 1.5 degrees Celsius above pre-industrial levels.
In 2021, the UN Intergovernmental Panel on Climate Change (IPCC) observed that the commitments made under the Paris Agreement, and the extent to which they had been implemented, were inadequate and that emission reductions of 45 percent by 2030, as compared with 2010, are required to meet the 1.5 degrees Celsius temperature goal. The IPCC also warned that half a degree of extra warming between 1.5 and 2 degrees Celsius will have severe consequences on communities and ecosystem.
At COP26, held in Glasgow in November 2021, an agreement was reached to increase and accelerate commitments on climate action. The COP26 outcome keeps the goal of 1.5 degrees Celsius alive but more commitments need to be made at COP27, scheduled to take place in Egypt in November 2022.
The goals of COP26 were mitigation, adaptation, finance, and collaboration. The Glasgow Climate Change Pact was also adopted, aiming to turn the 2020s into a decade of climate action and support. Key actions on mitigation include phasing down coal fired power plants, halting, and reversing deforestation, accelerating the switch to electric vehicles and reducing methane emissions. It was also agreed to make clean power the most affordable and reliable option by 2030.
The developed countries undertook to facilitate the provision of $100 billion per annum of funds for mitigation and adaptation mainly through partnership with private financial institutions. Collaboration will be enhanced by the completion of the Paris Rulebook, which addresses the transparency and reporting requirements of all the Parties to track progress against emission reduction targets.
Nigeria is highly vulnerable to climate change and is already experiencing its substantial impacts. These includes extreme temperatures, rise in infectious diseases, drought, and desertification in the north (with the Lake Chad shrinking by 96 percent), floods across much of the country, and erosion in the coastal areas.
Although Nigeria is not one of the leading emitters of greenhouse gases globally, it has significant and increasing emissions from the energy, manufacturing, transportation and agriculture sectors and deforestation is depleting the carbon dioxide sinks.
Given that the impact of climate change is enormous and the answer to it requires multidimensional solutions, engineers can play an important role in achieving sustainability. Not only can engineers combat climate change through new projects, but they can also rehabilitate and retrofit existing infrastructure to create climate friendly technologies.
Under the engineer's professional code of ethics, engineers have a fundamental role in ensuring that infrastructure designs and operations are continuously adapted to the impacts of climate change. For example, environmental engineers can make their contribution to sustainability using engineering principles that reduce the impact of major industrial activities especially in the energy and manufacturing sectors.
This is key to achieving public safety and improving social welfare, with prudent use of natural resources. Another way that engineers can help to reduce greenhouse gas emissions is to sequester it, using capture and storage technologies from large scale emitters such as power plants. In terms of environmental impact and energy efficiency, engineers can also explore further viability in hydrogen energy potential, which can be produced from diverse, domestic resources, including fossil fuels, biomass, and water electrolysis with electricity.
Nigerian engineers and national engineering institutions, such as the Nigerian Academy of Engineering are of critical importance in delivering on the science-based targets that are in line with the goals of the Paris Agreement and beyond. Nigeria must urgently harness its engineering resources to achieve its climate change goals.
In our effort to fight climate change, in November 2021 at the COP26 in Glasgow, President Muhammadu Buhari announced Nigeria's commitment to achieve net zero emissions by 2060. To achieve this target, Nigeria requires a clear blueprint in line with the science which should be firm and decisive as we live in a disruptive period of climate action.
Consequently, Nigeria now has a legal framework in the form of a Climate Change Act and an Energy Transition Plan. The Climate Change Act ensures the formulation of programmes to achieve Nigeria's long-term goals on climate change mitigation and adaptation; facilitating the coordination of climate change action needed to achieve long-term climate objectives; and mainstreaming climate change actions in line with national development priorities.
The Act also ensures facilitating the mobilisation of funds, and other resources necessary to ensure effective action on climate change so that climate change policies are integrated with related plans for promoting socio-economic development and environmental integrity.
The Climate Change Act also provides for the creation of a National Council on Climate Change, which will have the powers of policymaking and decisions on all matters related to climate change in Nigeria. The Council will coordinate and implement sectorial targets and strategies for the regulation of greenhouse gas emissions and other man-made causes of climate change.
Other tasks of the Council include the implementation of the National Climate Change Action Plan; mobilising financial resources to support climate change action; collaborating with the Federal Ministry responsible for Environment and Federal Ministry responsible for Transport toward implementing a mechanism for carbon emissions trading; and collaborating with the Nigerian Sovereign Green Bond to meet Nationally Determined Contributions (NDCs).
On the other hand, the Nigerian government has recently approved the nation's Energy Transition Plan that defines our pathway toward achieving net zero in 2060. The Energy Transition Plan seeks to lift over 100 million people out of poverty through driving economic growth, connecting the population to modern energy services, and managing the potential job loss in the oil sector because of global decarbonisation. The Energy Transition Plan recognises that the net zero target must focus on technologies that maximises emission reduction across different sectors.
In the buildings sector, emissions reduction will be driven primarily by a shift to electricity and biogas-based cooking. In the oil and gas and industrial sectors, emissions reduction will be enhanced by the global response to climate change mitigation using technologies such as carbon capture and storage (CCS), direct air capture, hydrogen fuel, etc.
In the transport and power sectors, emissions will be largely decreased by the uptake of electric vehicles (EVs) and renewables from solar energy, respectively. In the power sector, emissions will be reduced by increases in the use of solar energy as renewables replace natural gas as a transition fuel.
As a government, we understand that policy alone cannot solve the problem associated with climate change and our net zero commitment. As we implement our climate change policies and action, we are not hesitating in encouraging more climate action from the private sector which is not only central to realising our net zero commitment by 2060 but also meeting our Sustainable Development Goals (SDGs).