The Elephant Protection Initiative (EPI) August 2023 Friend of the Month is Christy Phillimore, who has been working with EPI's partners, the HALO Trust, in Angola for the past decade.
Christy is HALO's Fleet Technical Advisor, looking after its vehicles across that vast country. The EPI Foundation is working with HALO to set the conditions for a recovery of Angola's elephant population after decades of war.
In July, Christy travelled with an EPI Foundation team, delivering a modified container to a national park in a remote part of south-eastern Angola, where rangers will use it for the secure storage of wildlife products in their custody.
He believes that it will be quite challenging for Angola's wildlife populations to fully recover after decades of civil war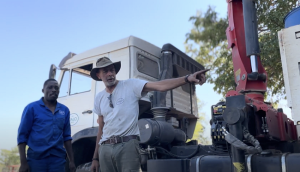 Please tell us a little bit about your childhood and early career.
I was born a stone's throw from the New Forest, in the south of England, in a large manor house with an old smithy, (blacksmith's forge and workshop) at the end of the garden. Rambling they'd call it now. Rampaging through the local forest and woodland was my favourite pastime, always keen on nature and the surroundings.
My father and uncle had a small engineering works, so I spent many school holidays working alongside them, repairing tractors and farm machinery and equipment outside in all weathers, never happier than when smothered in oil, until the job was done.
And how did you end up working with the HALO Trust?
My career has covered an array of engineering projects, from commissioning ultra-high pressure machines in Asia to runways in Greece, repairing pumps for the UK Atomic Energy Authority, operating and repairing engine production lines for Ford and Jaguar, working on oil rigs in the North Sea and Africa, and serving as a second engineer on various merchant ships.
After a period working in the UK and becoming bored, I answered an advert for the HALO Trust, and was lucky enough to be offered the position in Angola. It was initially a one-year contract, and here I am, over 10 years later, still in Angola and still with the HALO Trust!
What has Angola come to mean to you, and has it touched your soul?
The Angolans are a very proud people, but also friendly and accommodating. Over the years I've been here I've made many friends and met many people, I think there will always be a place in my heart for those people and the country itself.
It's vast! Always something new to see, another journey into the bush, a new adventure is always moments away. The work HALO does impacts the lives of so many in such a positive way that you would need to be pretty cold for it not to touch your soul.
You've travelled around many of the more remote parts of Angola with the HALO Trust, including recently with the EPI Foundation. Is it realistic, do you think, to believe that Angola's wildlife populations can ever recover after decades of civil war?
I certainly don't believe that it will be an easy task and nor will it happen overnight, probably not in my lifetime. That said, I would like to believe that it is possible for wildlife to return, though perhaps not in the numbers of pre-war.
Good park management, committed, selfless stakeholders and donors, better education of local people in regard to the importance of the wildlife, and better diversity in the food source for the population would all assist in the return. But I don't see this as just an Angolan problem. Better or more rigid policing of the borders and parks across the continent would impact on poaching and trade in wildlife, allowing the numbers to slowly increase.
The old cliché, of course, is that elephants never forget. From your experience, how scarred are Angola's elephants from memories of war and landmines?
Honestly, I don't know, though I would imagine quite badly. Over the last 10 years I've travelled in excess of 200,000 kilometres in Angola, many of them deep into the bush and in very remote areas. It was only on the recent expedition with the EPI Foundation that I first saw an elephant! They tend to keep themselves to themselves, in the most remote corner of Cuando Cubango, itself a remote province.
Angola is a not widely visited country. Tell us about some of your favourite places there.
The water falls in Cuemba, Bié Province, a full day's drive from Kuito city on some very poor roads.
The mountainous scenery on the northern Huambo to Lobito route.
Dircio, three days drive through the bush from Menongue running parallel with the Kavango river for some 150 kilometres.
In fact, stunning scenery is always just around the next corner or over the brow of the next hill. Just driving into the city of Menongue from the HALO base to buy some bread, with the sun low and the colourful buildings and houses can bring a smile to your face.
It is a wonderful country!