A respiratory physician, Dr Olufunke Adeyeye, says the transportation system in Nigeria has increased fumes and pollution of the air.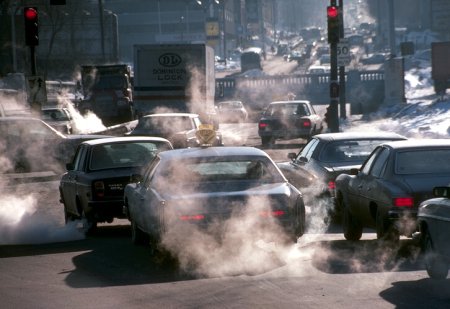 According to the consultant, the respiratory problems of Nigerians, including cough and difficulty in breathing, are due to pollution from the exhausts of vehicles.
Adeyeye, who works at Lagos University Teaching Hospital, Ikeja, told the News Agency of Nigeria (NAN) on Tuesday, January 15, 2019 in Lagos that large number of vehicles on the road was consequence of poor transportation system in Nigeria.
She explained that the high number of vehicles plying Nigerian roads implied that many hours would be spent in traffic, saying the long stay in traffic has severe adverse effects to individual's body.
According to her, the increase of these vehicles leads to increase in the emissions of particles that are dangerous to the environment and hazardous to health.
"With a lot of cars, we expect a lot of pollution from the exhausts including carbon monoxide and sulphur dioxide.
"This means there is higher irritants in the atmosphere and these things get into the lungs; carbon monoxide is capable of causing poisoning and has high affinity with haemoglobin (a red protein responsible for transporting oxygen in the blood).
"Sulphur dioxide is associated with worsening of asthma symptoms and people with breathing difficulty find it more difficult to breathe in such situations.
"When inhaled, these particles do not show any symptom, and that is why people die from generator poisoning.
"People who have heart problem can actually get chest pain, because the carbon monoxide has affinity with haemoglobin; so, oxygen will be removed immediately which can cause sudden death or heart attack.
"All these also contribute to the global warming being experienced in the world today," she said.
The consultant said that individuals, as well as the government, had the responsibility to control traffic situations on the road.
Adeyeye, who is also a staff member of the Lagos State University College of Medicine, said: "There is no reason for everybody to bring out their cars; people can decide to get to their various destinations by public transport.
"Also, people can start to order for electric cars, but we are challenged by inadequate power supply. So, we are incapacitated by the choices we cannot just make.
"It requires a holistic change to bring about improvement. The government should provide good roads that will encourage faster movement of cars on the road.
"The roads should be tarred and watered to reduce the amount of dust. Unfortunately, we cannot control the fumes," she added.
By Esenvosa Izah