Following the success of 24th Session of the Conference of the Parties (COP24) to the United Nations Framework Convention on Climate Change (UNFCCC) held December 2018 in Katowice, Poland, Michał Tadeusz Kurtyka, Poland's Secretary of State in the Ministry of Environment, who served as President of COP24, was in Lagos to engage young actors in Nigeria's environmental sector.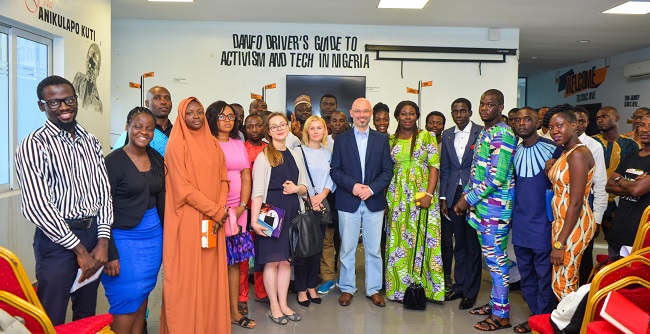 The Environmental Dialogue held on Sunday, March 17, 2019 at the Civic Hive, Yaba, Lagos and focused on solutions to address climate change in Nigeria and possible options to build climate resilience among Nigerians.
Speaking at the dialogue, Mr. Kurtyka said: "After COP24 which brought together thousands of delegates from 196 countries with different interests and priorities, we have adopted the Katowice Rulebook to guide the implementation of the Paris agreement. In September, I will be representing COP24 at the UN Climate Summit in New York and my work is to be your voice, so I want to hear from you."
The Polish Minister at the start of the dialogue asked participants, "If you had to identify one environmental challenge as a priority, what would be the most important message that you think I should take to the UN Climate Summit from the youths in Lagos, Nigeria?"
Response from participants focused on a range of themes bordering gas flaring, oil spill, poor waste management, non-renewable energy sources, deforestation, weak government policies and absence of environmental education as the major challenges that bedevils Nigeria's environmental sector and contributes to climate impact in the country.
Responding to comments, Ms. Ilona Korchut, Poland's Deputy Head of Mission in Nigeria, said: "As an embassy, we will try to facilitate you with organisations in Poland dealing with the same issues to improve your capacity and organise trainings that would scale-up what you are doing in Nigeria. I am sure some of our companies in Poland will be interested in some of what you are doing and that can open up collaborations for huge positive impact, here in Nigeria."
Ms. Ilona also encouraged those whose works are in line with the Polish Embassy's priority to access the yearly small grant project.
By 'Seyifunmi Adebote, Lagos