The Director, United Nations Information Centre (UNIC), Mr. Ronald Kayanja, has appealed to media educators to support capacity building on sustainable development to groom journalists already familiar with development journalism.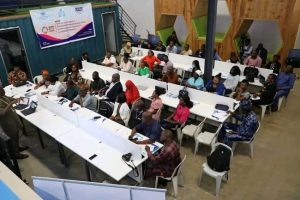 Mr. Kayanja made the appeal on Tuesday, May 10, 2022, during a training organised for journalists by the United Nations and supported by Media Awareness and Information for all Network (MAIN), in collaboration with the Office of the Senior Special Assistant to the President on Sustainable Development Goals (OSSAP-SDGs).
Mr. Kayanja said: "Media houses can develop beats for sustainable development reporting just like we have made progress with conflict, gender or environment reporting."
This, according to him, would help in actualising the United Nations 2030 Agenda.
Chairman, MAIN, Professor Lai Oso, urged the participants to do more of conventional way of writing as this will afford them the opportunity of digging deeper into the story.
"The world is undergoing many fundamental changes that pose a lot of existential challenges, and the United Nations has come up with the sustainable development goals to address these challenges. All these areas are waiting for you to be tapped into as journalists," Professor Oso stressed, adding:
"The core principles of Sustainable Development Goals are environmental, social and economic sustainability with 17 interlinked goals that encompass global development. All these cannot be achieved with the conventional ways of news writing which necessitates the need for specialised way of writing news stories."
The 2030 Agenda for Sustainable Development was launched at a United Nations Summit in New York in September 2015 with the sole aim of ending poverty in all its forms.
The UN 2030 Agenda envisages, according to Dr. Zakaria Mohammed of the OSSAP-SDGs, "a world of universal respect for human rights and human dignity, the rule of law, justice, equality and non-discrimination."
He urged all participants to play an active role in ensuring the positive outcome of the project.
Highlight of the programme entailed the decoration of all 59 participating journalists as the Champions of SDGs by the Permanent Secretary, Lagos State Ministry of Information and Strategy, Mr. Olusina Thorpe.
By Adedoye Ajibola Saheed