As school resumes after the two months summer holiday, more parents were seen enrolling their children in public schools.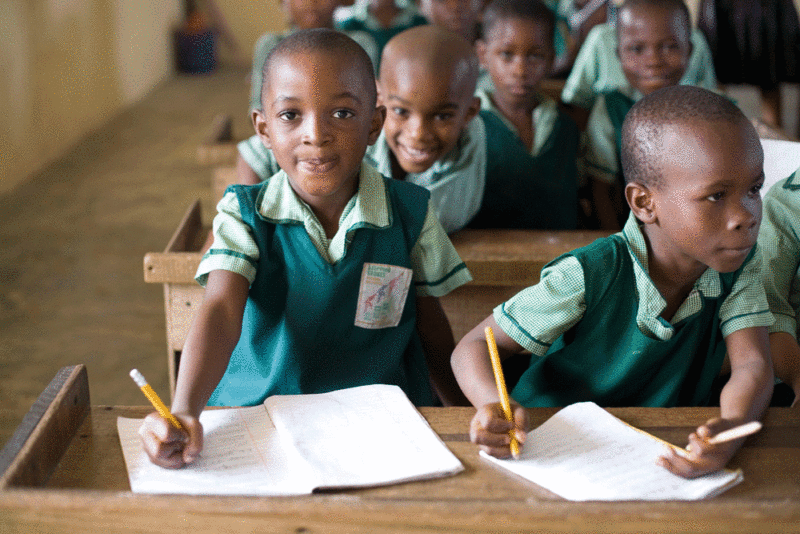 This reporter visited the Methodist Primary School, Ewu Elepe, Ikorodu, local area of Lagos and found up to six pupils writing an entrance test. When asked, a parent to one of the pupils, Mrs Ogundoyin (who is mother of seven and four year olds), says, "The fees at private is too much. And my husband was laid off at his job. He is out of job for six months now, we can't cope anymore."
Another parent, Mrs. Aki, adds, "Private is trying but there is a new increment now; N5,000 increase."
Their reports appear to establish the findings of DEEPEN (Developing Effective Private Education in Nigeria), an education initiative supported by the UK Aid in Nigeria. The team lead of the project, Dr. Gboyega Ilusanya, said at a recent training for education reporters in Lagos that default in fees is one of the issues many private schools are grappling with.
"Many of these parents intend to pay school fees, but the current economic realities make them default. And that weakens the private schools system," he says.
A low fee private school charges a yearly maximum of N25,000 while a medium fee private school, N50,000, according to DEEPEN's finding.
Meanwhile, cost of enrollment in public schools is supposed to be free; however, the finding from this school shows it is not entirely free. By rough estimate, enrolling a primary six pupil in a Lagos school, including sets of uniforms, text and notebooks, stationery, may cost between N15,000 and N20,000, but it is lesser for the lower grade.
Taking a nationwide view of public school enrollment, the registrar of the Teachers Registration Council of Nigeria, Professor Josiah Ajiboye, notes that since the enactment of the Universal Basic Education Act in 2004, Early Childhood services in Nigeria have recorded reasonable expansion.
Prof. Ajiboye, who also spoke during the same meeting on Education facilitated by the Wole Soyinka Centre for Investigative Reporting, made clear: "There has been an appreciable increase in the number of early childhood development centers, established to provide solid foundation as well as smooth transition from pre-primary schools to primary schools."
Furthermore the pre-primary education Net Enrolment Ratio (NER) increased from 10.9percent in 2003/2004 to 18.1percent in 2009/2010. By national figures, there were about 2,693,323 children were enrolled in pre – primary schools in 2010. In 2013, the number increased drastically again to 2,994,734.
Another reason for the migration is the teacher quality.
Dr. Ilusanya says teacher quality is better in public than that of private schools. "Because of the financial burden of private schools, they are unable to pay teachers salary. Sometimes they employ less qualified teachers."
Lamenting, Mrs. Aki says most of the teachers employed in her child's last private school can't even articulate properly. "I know because when I look at my child's daily report book, I see spelling errors. The teacher can't even differentiate between 'lunch' and 'launch'. That is really pathetic."
This is beginning to make parents believe the outcomes at public school may be better.
Professor Ajiboye was however quick to point the challenges of large and under-resourced classrooms. "The teacher pupil ratio is 40/42 pupils to one teacher," he notes.
The Universal Basic Education provides every Nigerian child, as a right, has nine years of free, compulsory, basic education – from Pre-primary to Junior Secondary 3. Two percent of the yearly consolidated revenue fund is released to ensure that in the 36 states there is improvement in enrolment, reduction of drop out raye, out-of school children, improved teacher training amongst other factors.
However, Prof Ajiboye notes: "Despite high gross enrolment rates, severe constraints both within and outside the education system have led to comparatively lower completion rates at public schools – the current average being 62% for girls and 59% for boys."
By Abiose Adelaja Adams