As the leaders on Climate Summit convened by the US president gets underway, the Pan-African Climate Justice Alliance (PACJA) calls on President Joe Biden to use America's global influence and take advantage of the current yearning for strong American leadership to ramp up ambitious climate action and negotiate a COP26 outcome that, at last, responds to African realities.
In this piece, the Alliance, headed by Dr Mithika Mwenda, makes wide-ranging observations and demands covering the urgency of ambitious climate action, the inadequacy of climate finance (especially finance dedicated to adaptation), the additional burden on African communities created by COVID-19, as well as the procedural justice problems that a virtual COP and pre-COP negotiations as proposed by some will cause to Africa.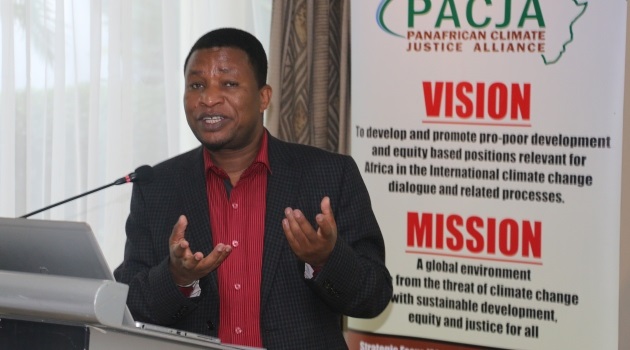 President Joe Biden hopes to establish American leadership in addressing the climate emergency when he hosts a Leaders Summit on Climate on April 22, 2021. The virtual summit planned for Earth Day will assemble 40 world leaders, primarily to advocate deep emission cuts and keep the goal of limiting global warming at 1.50C "within reach". It aims to influence the outcome of COP26, which is considered crucial for decisions that will prevent a projected "climate abyss" by the end of the century.
Both the Summit and its main objectives mark a major change of course from past US administrations that all failed to take actions commensurate with America's fair share of climate responsibility and ability to act. The US currently accounts for 15% of global emissions and is historically responsible for more greenhouse gases in the atmosphere than any other country. However, previous governments have systematically forestalled ambitious climate action.
Notably, the US infamously withdrew from the Kyoto Protocol in 2001, triggering a cascade of withdrawals by other industrialised countries. America's historic reluctance to fully engage the global effort to address climate change peaked during the Trump administration, which denied climate change, scaled back environmental regulation, and pulled out of the Paris Agreement.
As the summit gets underway, the Pan-African Climate Justice Alliance – a coalition of more than 1,000 CSOs, community movements and research organisations across 48 African countries – makes the following observations:
On April 19, 2021, UN Secretary-General António Guterres warned that 'time is fast running out to meet the goals of the Paris Agreement', as a new State of the Global Climate Report by the World Meteorological Organisation (WMO) showed that 2020 was one of three warmest years on record. 'The global average temperature in 2020 was about 1.2-degree Celsius above pre-industrial level… "dangerously close" to the 1.5-degree Celsius limit advocated by scientists to stave off the worst impacts of climate change,' said the UN in a statement. Despite a temporary dip observed in 2020 due to COVID-19-related economic slowdown, the WMO report notes that the emission of major greenhouse gases has kept rising. "We need to do more, and faster, now," Mr Guterres said.
The Leaders' Summit opens a window of opportunity to reset global climate action and aim for the level of ambition needed to avoid catastrophic climate change and protect those already suffering climate change impacts, particularly in Africa. After four years of American disengagement from global climate processes and a year of missed opportunities to take decisive action, this year is crucial for ramping up tangible action. Unless nations raise their ambition, current levels of emission reduction pledges will lead to a global mean temperature rise of more than 30C this century, twice the recommended 1.50C needed to keep life on Earth bearable. Equally, "huge gaps remain in [adaptation] finance for developing countries and bringing adaptation projects to the stage where they bring real protection against climate impacts such as droughts, floods and sea-level rise," according to UN Environment.
As a vulnerability hotspot, Africa faces an even wider adaptation gap, with far-reaching impacts already being felt in agriculture, health, infrastructure, and livelihoods. Floods and cyclones have killed more than 1,000 people and affected millions on the continent in the past few years alone. Since 2012, the number of undernourished people in drought-prone parts of Africa has increased by 44 per cent, according to the Food and Agriculture Organisation. Excluding the negative impacts on economic growth, the World Health Organisation estimates that climate change will cause 250,000 additional deaths, globally but mostly in Africa, between 2030 and 2050 from factors such as malnutrition, heat stress and malaria. The World Bank also warns that climate change could push 100 million people into extreme poverty – again mostly in Africa – by 2030.
Africa's unique circumstances and needs are yet to be fully addressed in global climate change negotiations. Despite accounting for barely four per cent of global emissions, African is both the region that is most vulnerable to and the least capable of protecting itself from the adverse impacts of climate change. Currently estimated to be warming 1.5 times faster than the global mean, the region is also experiencing disproportionate exposures to climate risks, which will worsen in a three-degree-future. African negotiators have requested and failed to obtain any acknowledgement of the needs of the continent, which since the Paris Agreement, is no longer part of the least developed countries and island development states.
The global public health crisis created by COVID-19 has placed an additional burden on African populations already sustaining the adverse impacts of climate change. Restrictions imposed around the world to deal with the pandemic have resulted in broken supply chains, limited market access for millions, set off inflation in many countries and undermined livelihoods for the most marginal in society. As estimated by the UN Economic Commission for Africa (UNECA), COVID-19 could potentially cause GDP to drop from 3.2 per cent to 1.8 per cent and put more than 250 million jobs in the urban informal sector across the continent at risk. Ongoing recovery plans can only be deemed successful if they address the climate and health emergency integrally.
On 15 April, the UN, the UK and representatives of developed and developing countries agreed to hold virtual negotiations from late May and mid-June. As COVID-19 restriction remain generally stringent across parts of the world, the idea of virtual negations – and potentially COP – has become both prominent and popular, especially in the north. But they fail to acknowledge Africa's low capacity to participate in virtual negotiations due to weak infrastructure (energy access, internet connectivity and lack of gadgets), the remote location of most of its constituents and time zone differences. However well-intended and organised, virtual negotiations will disenfranchise the Africans at forefront of climate change impacts and create procedural injustices that will be difficult to repair.
Having so observed, the Alliance calls on President Biden to use America's global influence and take advantage of the current yearning for strong American leadership to:
Drive emission reduction ambition under the Paris Agreement – particularly by "the original members of the Major Economies Forum on Climate and Energy, which together represent 80 per cent of global emissions and 80 per cent of global GDP". Combined, current emission reduction pledges only amount to a one per cent drop in emissions between 2010 and 2030 – way off the 45 per cent mark projected by the Intergovernmental Panel on Climate Change (IPCC) as needed to keep global warming at 1.50 C this century. The United States must show leadership by announcing and delivering deep emission cuts in its new NDC announcement and take steps to protect them from domestics political and economic interests.
Marshal the support of the global community for a COP26 outcome that is desirable to the African people, and that is consistent with the continent's realities. After the failure of COP25 to deliver meaningful progress, Africa now counts on COP26 for a global climate policy and action framework that responds to their unique circumstances created by the injustices of disproportionate vulnerability, exposures to risks and incapacity to protect itself without help – despite its insignificant contribution to climate change.
Avail resources to support African nations to meet their NDC targets which are largely conditional on external funding. To do so, the US must start by increasing its financial contributions to the Green Climate Fund, by first restoring its initial $3 billion pledge and leading other industrialised countries to substantially increase climate finance flow to Africa. The US equally has both the means and the influence to change the course of the disproportionally small flow of desperately needed adaptation finance to Africa, which today stands at only 25%, despite the global commitment to raise it to at least 50%, at par with mitigation spending.
Foster a low-carbon, just and equitable pandemic recovery that fully integrates climate change and the need to strengthen the resilience of African countries and communities, and other developing regions to minimise the adverse impact of major disruptions.
Facilitate meaningful technology transfer and capacity building targeting the developing nations especially in renewable energy to address the energy needs of the African people by harnessing the already abundant natural resources like solar, geothermal and wind resources.
Push for physical negations and COP to increase the participation of African governments and peoples, who would be otherwise cut off because of technological, energy and internet access, limitations. In a recent letter to Parties, the Rt Hon Alok Sharma, the COP26 President-Designate, observed that conversations he has had with countries and negotiating groups reinforce "the necessity of arriving in Glasgow in person." A physical COP, therefore, already enjoys strong support notwithstanding the challenges posed by COVID-19.