The Pan African Climate Justice Alliance (PACJA) has declined the invitation to meet with the COP28 President-Designate, Dr. Sultan Ahmed Al Jaber, in Nairobi on the grounds of his oil ties.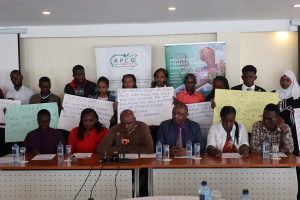 Dr. Al Jaber was in Kenya on a working visit at the Africa Energy Forum in Nairobi, where he met Dr. William Ruto, President of the Republic of Kenya, energy ministers, and leaders from other African nations. Taking on this opportunity, the COP28 presidency had extended an invitation to PACJA as a Pan African Civil Society to have a roundtable discussion on key issues about the upcoming COP28.
However, the group refused to meet with Dr. Al Jaber, who is the CEO of Abu Dhabi National Oil Company (ADNOC), claiming that his appointment poses "a serious conflict of interest and undermines his credibility as the leader of the global climate negotiations".
PACJA, which had previously called on Dr Al Jaber to step down from his position as President-Designate of COP28, reiterated the call in a statement made available to EnviroNews on Wednesday, June 21, 2023, citing the following reasons:
As the Minister of Industry and Advanced Technology and the Group CEO of the Abu Dhabi National Oil Company (ADNOC), we believe he represent the interests of the fossil fuel industry, which is the main driver of the climate crisis. We find it unacceptable that you hold such a prominent role in the COP process, which is supposed to advance the implementation of the Paris Agreement and limit global warming to 1.5°C.
His involvement in the COP process raises serious questions about the integrity and legitimacy of the UNFCCC. We are concerned that he will use his position to influence the outcomes of the negotiations in favour of the oil and gas sector and undermine the efforts of developing countries and civil society to push for more ambitious and equitable climate action.
His invitation to meet with us in Nairobi appears to be a public relations stunt to improve his image and credibility as the COP president. We do not wish to be used as a token of your engagement with civil society, while you continue to pursue policies and projects that are detrimental to the environment and human rights.
"We urge Dr. Al Jaber, in good faith, to step down from COP28 Presidency," declared PACJA.