The Oyo State Government has decried the attitude of some residents who arbitrarily dump their waste on roadsides, canals and streams instead of employing registered waste collectors.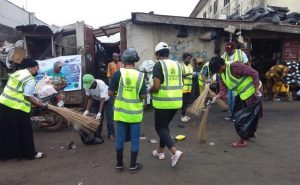 Director of Environmental Services, Oyo State Ministry of Environment, Mr Niyi Onifade, frowned at the attitude of such residents during an environmental sanitation exercise organised by Rotary Club of Ibadan City Central on Thursday, March 31, 2022, in Ibadan, the state capital.
Members of the club undertook the cleaning and clearing of waste at the Agodi Gate Motor Parts Market in Ibadan to commemorate the club's Water and Sanitation Month.
Onifade said that indiscriminate disposal of waste portends grave danger to the health of residents as it could lead to outbreak of diseases in the state.
"I want to tell you that the activities of the waste contractors have not been welcome as people refuse to patronise them.
"There has been low level of patronage and when people are not patronising them, people end up dumping their refuse in rivers, roadsides among others.
"If refuse are not properly disposed it can lead to outbreak of diseases like cholera, typhoid and we don't want that in the state," he said.
The director urged people in the state to employ the services of the registered waste collectors, noting that only these categories of people could access the four dumping sites approved by the government.
Onifade, who commended Rotary for the exercise, said that it was essential to keep the environment tidy at all times, pack refuse properly and transported in order to prevent outbreak of diseases.
In his remarks, the President of the club, Mr AbdulRahman Olapade, said the exercise was in line with the programmes of  Rotary International's month of water  and sanitation.
Olapade said that the exercise was to prevent infections and protect the environment in order to avoid spending money on preventable diseases.
"This is our token of contributing to our society in recognition that this month is dedicated by Rotary International as Water and Sanitation month," he said.
The president called on the public to maintain clean environment in order to spend less in the hospital combating infectious diseases.
Mr Taofeek Gbolagade, a trader at the Agodi Gate Motor Parts Market, commended the club for undertaking the exercise and called on government to enforce the Thursday weekly sanitation exercise in markets across the state.
By Suleiman Shehu