The Nigerian Conservation Foundation (NCF) and Oxfam are making efforts to improve small scale farmer's resilience to climate change food security.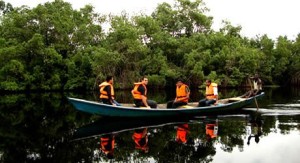 Tagged: Farmers Field School (FFS), the initiative is aimed at preparing farmers to adapt to and cope with the negative effects of climate change.
Speaking at the opening ceremony of the initiative in Omo J4 Forest Reserve, NCF's Chief Conservation Officer, Adedamola Ogunsesan, said that though the menace of climate change and it numerous effects is a global issue, countries have begun to develop strategies to ameliorate its impact on human lives and agricultural production so as to tackle the issue of food insecurity.
According to him, Ogun State, like other states in Nigeria, is faced with low food harvest due to ineffective farming practices and inadequate knowledge to effectively manage the effects of climate change on food crop production.
"Hence, the need to equip farmers in rural communities with knowledge on how to tackle climate change-induced poor yield, poor soil fertility and low nutrient retaining ability, abnormal flow of rain fall and the spread of common and uncommon diseases," said Ogunsesan.
He added: "Adaptation strategies are short and long-term changes to human activities that respond to the effects of changes in climate. In agriculture, adaptation will require cost-effective investments in water infrastructure, emergency preparation for and response to extreme weather events, development of resilient crop varieties that tolerate temperature and precipitation stresses, and new or improved land use and management practices".
According to NCF's Field Officer in Omo Forest Reserve, Clifford Omonu, the initiative requires grassroots experiments, regular field observations and group analysis. He emphasized tsat the knowledge gained from these activities enables participants to make their own locally specific decisions about crop practices and management as it affects them.
"This approach represents a shift from earlier agricultural programmes; in which farmers were compel to adopt generalised recommendations for a better outcome.
"The purpose of this initiative is to establish a regular FFS in nine communities in Omo Forest as well as to train and build farmers capacities for climate change adaptation while reducing human pressure on forest resources in Omo forest. We will train some farmers in these nine selected communities of Area J4, Aberu, Mile 1 village, Osoko, Olooji, Aba kurudu, Abeku 1, Eleyele London and Abeku Temidere," Omonu said.