Ahead of COP26 in Glasgow, the LDC Group – consisting of the 46 least developed countries who are the most impacted by the climate crisis despite contributing the least to it – is anxious to see real progress that will see emissions halved by 2030 and climate finance scaled up to support climate action in developing countries.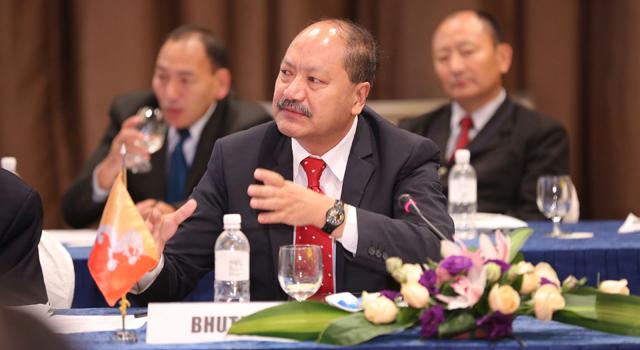 Mr Sonam P. Wangdi, Chair of the LDC Group, said, "Raising global ambition and increasing climate finance is paramount to our survival. We have come to Glasgow in full knowledge of the climate crisis. It is not just future generations at risk. Already homes are being lost to sea level rise in the Pacific. Climate change-induced famine is taking lives in Madagascar. And floods have displaced millions in Bangladesh."
On the need to prevent further warming to mitigate climate change, Mr Wangdi said:  "Deep, sustained emissions reductions are urgently needed. Countries' pledges so far come nowhere near to halving emissions by 2030, as the IPCC has made clear is necessary for limiting warming to 1.5°C. Scientists have been ringing alarm bells for 30 years now, but it doesn't seem like everyone is hearing them. This crisis isn't being treated like a crisis. That has to change here in Glasgow.
"At the World Leader's Summit, we expect to hear enhanced commitments for bolder 2030 emissions reductions targets. These commitments must be consistent with limiting warming to 1.5°C and reflect each country's fair share of the global effort. Leaders must also put forward long-term strategies that map the path to net zero global emissions by 2050.
"But of course words alone are not enough. Leaders must back their commitments with plans and policies that lead to real action, and real emissions reductions, phasing out fossil fuels and accelerating a just transition to the clean energy future we need for a safe and fair world. We cannot leave Glasgow without strong commitments that will ensure the survival of the billion people living in the LDCs, now and in the future."
On climate finance, Mr Wangdi said, "Climate finance is critical to addressing the climate crisis and achieving the goals of the Paris Agreement."
Commenting on the Climate Finance Delivery Plan released earlier this week, he stated that "while the plan provides some reassurance of efforts to make up the shortfall of $100 billion per year by 2020, the delay in the delivery of the promised amount is disappointing, given the urgency of the climate crisis, the needs of our countries, and a full decade passing since the commitment was made. To benefit our countries, climate finance needs to be accessible, delivered as grants, and a much greater proportion of it must be dedicated to adaptation actions."
At COP26 deliberations will begin on a new quantified climate finance goal. Mr Wangdi said: "The new goal for climate finance must be based on the actual needs of our countries and the scale of action that is needed to leapfrog to low-carbon technologies, adapt to the impacts of climate change, and to address the inevitable and unavoidable loss and damage that climate change is increasingly causing."
On the issue of loss and damage, Mr Wangdi said, "Dealing with the loss and damage caused by the climate crisis is a top priority for vulnerable countries. Years of inadequate action on climate change means that it is no longer possible to mitigate or adapt to wholly avoid irrevocable harms, costs, and losses from climate change. Finance and technical support to address loss and damage is urgently needed. We need to see loss and damage prioritised at COP 26 and beyond."
On the negotiations of the market mechanisms under Article 6 of the Paris Agreement, Mr Wangdi said, "It is imperative that the market mechanisms we deliver in Glasgow will not undermine progress towards the goals of the Paris Agreement. Loopholes and bad rules that allow units to be double counted, to be carried over from the Kyoto Protocol, and that lack environmental integrity could see global emissions go up, not down. We need robust rules that ensure the mechanisms lead to overall reductions in global emissions, and generate proceeds for adaptation actions."