Ogun State Commissioner for Health, Dr Tomi Coker, and colleagues in the School of Policy, Politics and Governance (SPPG), have donated a toilet block to the Ikeye community in Gbagura, Abeokuta North Local Government Area.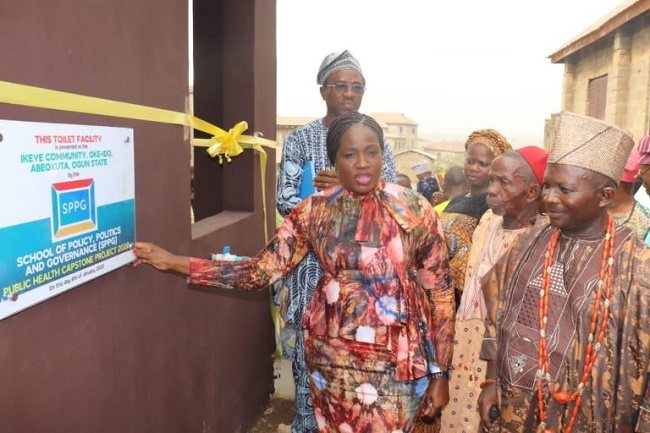 Presenting the toilet block to the community on Saturday, January 7, 2023, in Abeokuta, Coker advised Nigerians to do all within their means to stop open defecation.
The commissioner said that open defecation has, over the years, given rise to cases of diarrhoea, cholera, Neglected Tropical Diseases (NTDs) and other public health ailments in communities thereby resulting in avoidable deaths.
The toilet is supplied with water from a borehole to ensure adequate water supply to ensure hygienic usage of the facility and promote hand washing by members of the community.
Coker said that open defecation has become a menace which every inhabitant in the country should strive to end.
She noted that many children and pregnant women have been sent to their early graves as a result of its consequences.
The commissioner said that she and seven course mates in the public health sector in different parts of the world decided to provide the toilet in Abeokuta North because of the high incident of open defecation in the area.
"This toilet is not for decoration. It is for the benefits of the people of this community and you are to take ownership of it with all sense of responsibility.
"With this donated toilet, we envisage a reduction in cases of diarrhoea, maternal and infant mortality in this locality.
"We expect you to wash your hands after defecation by making use of soap and running tap water," she said.
The commissioner noted that the essence of human existence was to affect lives without greed and selfishness, just as she admonished well-meaning individuals to emulate this gesture by the group of students.
In his remarks, the Balogun Ijaye Kukudi, Chief Rasak Obe, who represented the Agura of Gbagura, expressed the royal father's profound gratitude to the commissioner and her mates for the donation.
The Chairman, Community Development Council, Irewolede Area, Mr AbdulFatai Hakeem, also appreciated the timely donation and assured that residents would not fail to ensure the proper use of the toilet.
By Yetunde Fatungase