Rivers State House of Assembly has ordered Shell Petroleum Development Company (SPDC) to commence immediate clean-up and remediation of some communities recently impacted by oil spillage in the state.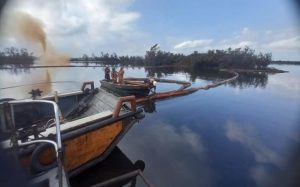 The directive is sequel to the resolution reached at a session of the ad hoc committee on "Investigation of the Aleto crude oil spillage".
Chairman of the committee, Mr Dumle Maol (PDP- Gokana), who read the findings, confirmed the devastating crude oil spillage on SPDC's 28 Trans-Niger pipeline (TNT) right of way sited in Eleme zone two, Eleme Local Government Area of the state.
The committee also stated that a joint investigation with SPDC showed that the faulty line was buried 5ft. underground and that there was no security breach at the incident site.
The committee also gathered that SPDC had since delivered some relief materials to the affected areas to partially take care of the immediate sufferings of victims.
The committee recommended that SPDC should immediately commence the clean up and remediation of the impacted communities, in line with provision of the extant laws.
In his submission, Speaker of the assembly, Mr Martin Amaehule (PDP-Obio/Akpor I), condemned incidences of oil spillage traceable to faulty pipelines and slow response toward remediation by operating oil companies.
The speaker, who expressed worry over the attendant environmental hazard faced by the area as a result of reoccurring oil spillage, urged SPDC and other oil exploration companies to always abide by global standard of operations.
"The 10th assembly will not fold its arm to watch Rivers people suffer as a result of operational negligence of any company in the state," he said.
Eleme communities of Aleto, Agbonchia, Akpajo, Okerewa, Njuru and the coastal areas of Okujagu-Ama were amongst those impacted by the oil spillage.
By Ikuru Lizzy