The Coalition of Ijaw Interest Groups has urged the Federal  Government and Bayelsa State Government to take action on environmental remediation and commercial exploration across Niger Delta States by cleaning up the oiled wasteland.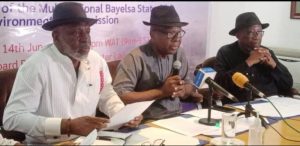 The groups made the call at a joint news conference demanding the implementation of the report of the Multinational Panel on Environmental Genocide: "The Human Cost of Big Oil in Bayelsa, Nigeria" on Wednesday, June 14, 2023, in Lagos.
The groups consist of Ijaw Elders Forum, Lagos; Ijaw Nation Forum; Embasara Foundation; and Ijaw Women Connect.
Others are Ijaw Professionals Association, Lagos; Homeland Chapter Ijaw Professionals Association; and Ijaw Diaspora Council.
They called on the Ministers of Petroleum and Environment to immediately stop the dangerous and destructive environmental pollution slowly killing the people of the region.
Speaking on behalf of the gropus, Mr Efiye Bribena, Secretary, Ijaw Elders Forum, Lagos chapter, said the activities of the oil companies in the region had desecrated the ecosystem and brought about environmental genocide.
"While the oil companies and their complicit or inept regulators are directly culpable, the Bayelsa State Government has the primary sacred duty to resist the toxic impacts.
"Agip's facilities drenched Lasukugbene and its surroundings with crude oil for weeks in 2021.
"Conoil callously spewed oil and gas repeatedly for extended periods in the Akassa axis in the same year.
"Shell has not only soaked Ikarama community in spills during the period but has had NOSDRA issue clean up certificates for sites that still contain ponds of spilled oil.
"Also, the Aiteo Group that took over some oilfields and facilities in allegedly hazardous states from Shell was host of the catastrophic Santa Barbara Oilfield blowout that lasted for five to six weeks in 2021.
"We, therefore, encourage and challenge the state government to slay this monster of petroleum genocide once and for all," he said.
By Adekunle Williams and Oluwatope Lawanson