Community leaders of Egbema in Rivers State have called on the Federal Government to come to their aid and urgently address the environmental disaster unraveling in their place of abode.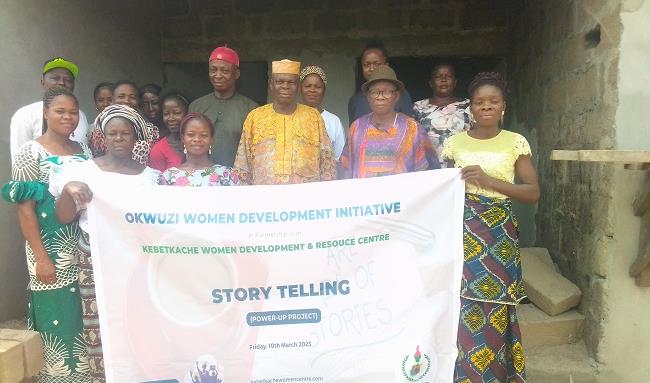 The call was championed by the Community Development Committee (CDC) Chairman, Comrade Andy Igwe, at an event on Friday, March 10, 2023, to mark the World Environment Day organised by the Okwuzi Women Development Initiative, in Ogba/Egbema/Ndoni Local Government, one of the largest oil and gas producers in Rivers State, which adopted a theme that relates to their local needs: "The effects of Environmental Pollution on the Income and Livelihood of Women Farmers in Egbema".
Comrade Igwe lamented that "environmental pollution has caused a lot of harm to our traditional occupations such as farming, fishing and hunting". He recalled nostalgically how fishing "used to be joyful but it is no longer like that".
He added: "Our farm yields were such that during new yam festivals, pounded yam was eaten for the next three months, from August till October and for richer families till December and only the poorest of the poor dare to cook cassava then seen as a poor man's food."
Earlier in her narrative, Peace Mgbenwa, the Convener of the gathering, had taken the audience through a memory lane trying to remind the people what things were before the exploration of crude oil from the soil and the current reality.
"In the past you can drink rainwater, you can plunge yourself into the Orashi River and have a good swim, you can pay your children's school fees from the catch in your small ponds and creeks, you can sell your raw cassava and have instant cash. All these now seem to be a tale from an ancient movie.
"You have seen what pollution has caused us. Okasi is no more. Fishes have gone into extension. On a recent trip to Ghana, I saw different species of fish, many of which have gone into extinction in Nigeria. Pollution has killed our land. And, for this reason, our household income is shrinking continually. Our land is wasted, we have no land to farm, we cannot even pay our children's fees to school."
Chief Mmanwoke, the Eze Oshionya of Akuru viiilage and a former Chairman, Okwuzi Council of Chiefs, said: "The suffering is too much, we call on the government to help our people. Provide skills acquisition, provide grants and seedlings and soft loans to farmers, especially to women farmers."
Mgbenwa added: "The income of women has dwindled in the past few years and their entire savings wiped out by flooding which was caused by climate change."
She also lamented the fact that environmental pollution has also caused acute water shortage in Egbema, having polluted the Orashi River, the Nkisa River and the Ibuu Creek which was the main source of water supply for the local communities, even as women are now exposed to several dangers.
According to Peace Mgbenwa women now live in very poor sanitary conditions. She recalled what women had to suffer during the COVID-19 pandemic because of water shortage.
Chief Clement Owurulor, the Eze Udokanma of Egbema, said: "We are all suffering because of pollution, many different sicknesses that we have not seen before are now in our land, so we need hospitals and doctors. Those of us who are fishermen are now without work. Let Federal and State Governments as well as NDDC help us so that we will not die."
Julia Abali, one of the farmers, said: "As a result of pollution, women of 40 years don't give birth anymore because of early menopause; there is a lot of eye diseases and even rivers close to our homes and farms are so polluted that we can't use them."
She opined that pollution has resulted in poor yield and low income for women which has also affected the enrollment of children of school age especially the girl child.
Miss Abali also expressed her worry over several fish species such as Ikiriko, apupa, epete, igbe (electric fish) and several others that are believed to have already gone into extinction.
"All these have made our young ladies to go into prostitution, especially child prostitution and these have also compounded the problem of out-of-school children caused in turn by child pregnancy," she lamented.
She appealed to the Federal Government to help the women by giving them skill and grants to improve their household income.
In his closing remarks, Comrade Andy Igwe said: "Pollution has done great damage to the livelihood income of women. The Federal Government and other stakeholders should urgently intervene to save future generations."
He thanked the Okwuzi Women Development Initiative and the organisers of the programme and Kebetkache Women Development and Resource Centre for supporting the event.
By Dandy Mgbenwa