The Ohanaeze Ndigbo UK and Northern Ireland says it has concluded plans to plant one million palm trees in Nigeria as part of effort to assist businesses in the South-East.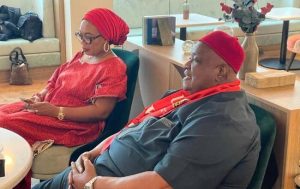 Ohanaeze said this in a statement issued by its Media Consultant, Asa Blessing-Chijekwu, on Wednesday, August 9, 2023, after the visit in London of Chief Emmanuel Iwuanyanwu, President-General of Ohanaeze Ndigbo worldwide.
Blessing-Chijekwu quoted the Ohanaeze President in UK, Lady Aqueen Ibeto, as saying that the planting of the palm trees would be concentrated in the South-East states.
"We plan to plant one million palm trees in Nigeria and we are working with our members who have vast land in the South-East, to commence that project," Ibeto was quoted as saying.
Ibeto also said that Ohanaeze Ndigbo UK had already secured a place in Enugu where they would build a skill acquisition centre.
She said that the skill acquisition centre would be replicated in other states in the South-East.
"We brought our care back home and secured the release of 20 inmates of the Maximum Security Prison in Enugu, and those inmates released are from different states of the South-East.
"We are extending the gesture of development back home to impact lives in our country and zone.
"I have also championed the course of women through my group, the Adaure Igbo Women Association which is one of the biggest women group in UK; It's in Nigeria and now in the U.S.
"Ohanaeze has cultural and education department and has been working to ensure they impact on lives of members.
"We initiated Congress of Igbo leader to promote peaceful coexistence among our people and it was from this group that we created Igbo Festival of Art and Culture.
"But we decided to make Ohanaeze unique since it is the apex group of Igbo people around the world," she said.
Ibeto also said plan had also been made to galvanise and use the wealthy sons and daughters of Igbo extraction to grow funds to assist Igbo men who need help in their businesses in UK.
She said that modalities for benefitting from the fund would be reviewed assessed during the celebration of Ohanaeze Ndigbo Day scheduled to hold in Coventry, UK, on Aug. 12.
The Ohanaeze president in UK also said that they were on the verge of acquiring a secretariat for the organisation in the UK.
"Dr Benard Obika, the Project Chairman, is seriously working on it and by the grace of God, it will be ready before the end of the year.
"And I commended Chief Anterus Ezeh, for taking up the sponsorship of the 2023 Igbo day," she said.
She said that members of the association rallied among themselves to finance the acquisition of the secretariat.
Ibeto who commended Iwuanyanwu for his good leadership qualities also said that past leaders and elders of Ohanaeze Ndigbo in UK were consulted before they embarked on any project.
Iwuanyanwu while responding lauded Ibeto for her vision for Ohanaeze and urged her not to relent as they were solidly behind her leadership.
He assured her of completing her four-year tenure irrespective of the opposition she faced in the hands of few aggrieved members.
"Aqueen, I thank you for the good leadership you have provided for Ohanaeze in UK. I also commend you for all the effort you have made to maintain peace.
"If I have any message for Igbo people in UK, it is you, Aqueen Ibeto, that I will send it to," Iwuanyanwu said.
He prayed for unity among all the Igbo people in the UK, Nigeria and other parts of the world.
By Emmanuel Afonne