In furtherance of its bid to ensure home owners in the state regularised their landed property at a discounted rate, the Ogun State Government has distributed another round of 1,000 certificates of occupancy (C-of-Os), and approved building plans to landlords in the state.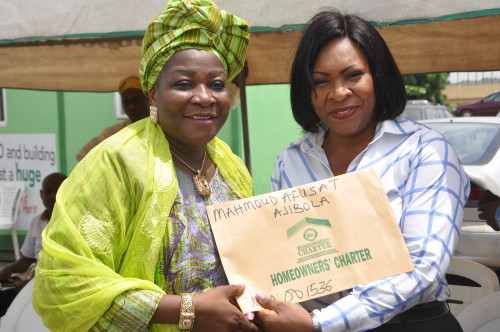 Distributing the C-of-Os at the Arcade Ground in Oke-Mosan, the governor, Senator Ibikunle Amosun, expressed his satisfaction with the programme, adding that the Homeowners' Charter programme has come to stay in the state. Amosun was represented by the Attorney General and Commissioner for Justice of the State, Mrs. Abimbola Akeredolu.
She said the programme has made the issuance of C-of-Os and approved building plans very easy, putting into consideration the previous cumbersome and bottlenecks of the processes being experienced before the inception of the administration of Senator Ibikunle Amosun.
The commissioner called on other states of the federation to emulate Ogun State by embarking on programmes that will add value to the lives of the citizenry, saying that the 1,000 C-of-Os and approved building plans distributed was in fulfilment of Senator Ibikunle Amosun's administration during his re-election campaign bid.
Special Adviser/Director General, Bureau of Lands and Survey, Mr. Adewale Oshinowo, said the 6th Edition of the presentation of C-of-Os is in appreciation of the governor to the people for re-electing him to serve them for a second term in office, saying that the distribution of 500 C-of-Os per week would continue.
The DG enumerated the benefits to home owners, saying it paves way to accessing mortgage loans, it is transferrable to children and great grandchildren, can be used as a collateral to access loan in the banks, and that it does not need to be registered in IRS as it contains stamp duty.
According to Oshinowo "the programme which was flagged-off in December 2013 has issued about 8,000 C-of-Os, which amounts to 25 percent of registered applicants in the state, and the Bureau would continue to roll out 500 units of C-of-Os on a weekly basis to home owners in the state."
Ayodele Oshokoya, a beneficiary from Ijebu-Ode, expressed appreciation to the state government for the initiative and urged the governor to give the people of the state another chance to introduce the second phase of the homeowner's charter programme, as he has been given the second chance to rule the state.
Oshokoya said that most of homeowners in the state doubted the programme when it was first introduced, adding that he has never dreamt of having C-of-O in his entire life talk less of getting it directly from the state government. He predicted that many more people will key into the programme and benefit from it.