Residents of Oniyoyo, Obide, Oke Ira Nla and Orudu in Ifo Local Government Area of Ogun State have decried the incessant flooding caused by overflowing of the Orudu River in the community.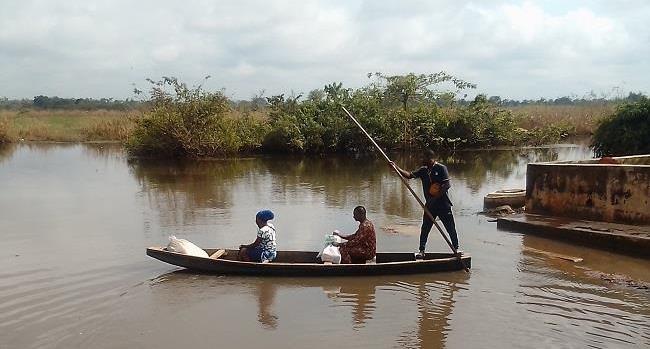 Financial Secretary of Ogo Oluwa Local Community Development Association, Mr. Azeez Adeoye, while narrating the community's ordeal to our reporter, said the situation which normally occurred once in every three years during the rainy season has lately become a yearly occurrence.
Mr. Adeoye said once the government opens the Ogun Dam it always has its effect on the Orudu River in their community which overflows it's boundary and stays like that till ending of November every year.
He said the only means of navigating the place which was a trekkable distance before now is canoe which costs them N100 per trip, a situation Mr. Adeoye describes as "unfortunate" especially during the current economic meltdown.
In the same vein, Mr. Bashiru Ajao, whose farm produce got destroyed as a result of this year's rain, recounted his loss running into several thousands of naira.
Mr. Ajao recalled that this year's opening of Ogun Dam caught so many people unaware and a lots of farm produce got destroyed in the process. He called on the relevant authority to help residents of the area.
Mr. John Anthony who paddles canoe on the river said despite making money by ferrying people on the river by this time, a lot of people living in the area always complain during this period as majority of the residents abandon their homes till after the rain subsides.
Mr. Azeez Adeoye thereby called on Ogun State Government to help construct a drainage channel along the axis and also a bridge that will ensure easy passage of motorcycles and vehicles, noting that this will enhance and promote social economic activities of all the residents in the axis.
By Ajibola Adedoye-Badmus