To complement the Ogoni clean-up process, the Environmental Rights Action/Friends of the Earth Nigeria (ERA/FoEN) and its allies at the local, national and international levels, on Wednesday, February 6, 2019 in Port Harcourt, Rivers State launched some 100 Community Independent Monitors (CIM) to provide qualitative and scientific progress reports on the state of the clean-up process.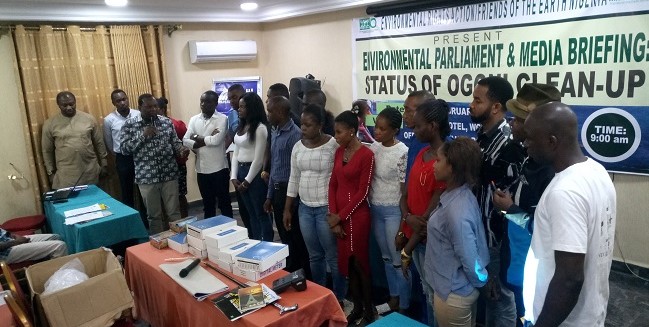 According to Dr Godwin Ojo, head of ERA/FoEN, the CIM will provide feedback to the Hydrocarbon Pollution Remediation Project (HYPREP), government agencies, media and the relevant stakeholders to ensure transparency and accountability and ensure quality clean up.
In a similar vein, the group has expressed reservations over the implementation of the emergency measures in Ogoni under the clean-up initiative.
Essentially, the Ogoni environmental remediation project as outlined in the United Nations Environmental Programme (UNEP) recommendations should be implemented in phases – the emergency measures and the full-scale remediation of polluted sites. There were eight emergency measures highlighted in the UNEP report.
But Ojo alleged that, till date, only a few measures had been partially attempted without any form of a fast-tracked implementation, while many others are yet to be conceived.
For instance, on the emergence measure that wants the authorities to ensure that all drinking water wells where hydrocarbons were detected are marked and that people are informed of the danger, the group remarked: "This emergency measure is yet to be attained. Two communities in Ogale Clan – Ekpangbala and Agbi – have contaminated water wells that are yet to be marked, and people still use water from these wells for different purposes."
On provide adequate sources of drinking water to those households whose drinking water supply is impacted, ERA/FoEN commented: "This is one measure that is yet to be implemented. Contracts were advertised to study the water reticulation in Ogoniland and provide water. HYPREP is yet to provide potable water to any community."
On informing all families whose rainwater samples tested positive for hydrocarbons and advise them not to consume the water, ERA/FoEN observed: "HYPREP is yet to identify these families, consult or inform. Or better still, sensitise the Ogoni population on the hazard of drinking contaminated rainwater."
Concerning mounting a public awareness campaign to warn the individuals who are undertaking artisanal refining that such activities are damaging their health, ERA/FoEN stated: "HYPREP has undertaken strategic level consultations with ex-artisanal refiners. This approach has been ineffective and given that the real people involved in artisanal refining ('the foot soldiers') and suffer the impacts of the illicit and crude business are yet to be consulted."