Environmentalists, residents and stakeholders across the Lekki-Epe Corridor on Thursday, August 24, 2023, urged the Federal Government to address the effects of ocean surge on the environment.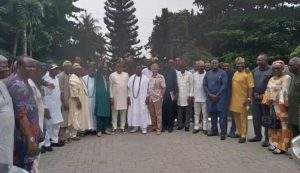 They spoke at a roundtable organised by the President, Lekki Estate Residents and Stakeholders Association (LERSA), Alhaji Sulyman Bello, Nigerian Conservation Foundation (NCF) and the Senator representing Lagos Central District.
The properties in communities such as Lafiaji, Owonikoko, Okun Ajah, Okun Alfa, Okun Mopo, and others are currently battling with the challenge.
Dr Joseph Onoja, Director-General, NCF, said that urgent steps must be taken to tackle the problem, as it may have more devastating effects on many Lekki communities if left unattended to.
Onoja said the foundation, actively monitoring the development along the axis, thought it wise to campaign for coastal communities along the axis.
"From what we know, by the time the erosion continues for another 50 metres, it will be on the flat ground," he said.
Nigerian environmentalist, Mr Desmond Majekodunmi, observed that numerous coconut trees all around the coastal areas had been eroded by water.
Majekodunmi, also chairman of the Lekki State Urban Forest and Animal Shelter, noted that in spite of efforts of the former Governor of Lagos, Mr Babatunde Fashola, to fix groins by the oceans, the erosion was still continuing.
He stressed that urgent action was critical in the face of global warming, to prevent the lash-back nature was waging against mankind.
The environmentalist said that the responsibility was tremendous, but appealed that something be done before it started to have more devastating effects on lives and properties.
Mr Osas Airen, representative, Lascodal-Orchid Road, revealed that Ocean Bay Estate back fence which was about 300 metres from the sea was affected by the surge two weeks ago.
Airen said some other houses, resorts and facilities in the area were also affected by the ecological problem, pleading for urgent intervention by government.
Representative, Lafiaji Community, Elder Alade Balogun, said that many residents no longer slept with their two eyes closed due to fear over the problem.
Responding, Senator, Lagos Central Senatorial District, Sen. Wasiu Eshinlokun, committed to presenting a motion about the happenings at the Lekki foreshore before the government.
The Senator appealed to residents to share their expertise, itemise the problems and proffer innovative solutions, provide projected cost implications to drive his prayers to the Senate to address the situation.
"I charge you all to present what must be done to salvage the situation before the Senate resumes in the next four weeks, for a better presentation to the National Assembly.
"We would also begin to engage relevant ministries and agencies such as ministry for waterfront, National Emergency Management Agency (NEMA) and stakeholders to create more awareness and provide short term support to victims.
"Please be assured of my readiness to work with the community in creating lasting solutions," he said.
By Rukayat Moisemhe