Net Zero As Soon As Possible (NZASAP) and EnviroNews have signed a collaboration agreement to launch the First In A Million Club (FIAMC), a flagship programme of the Workplace Climate Ambassadors Scheme (WCAS) in Nigeria.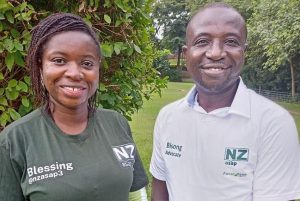 With this new arrangement, EnviroNews becomes the country's corporate representative for the international venture. The prestigious media organisation is tasked with a variety of duties under this agreement, including raising public knowledge about the plan and serving as the authorised entity for all financial transfers from members and sponsors, as well as for training reasons.
The brand-new programme, which debuted on May 1, 2023, across West Africa, aims to mobilise champions to speak up and promote various climate-driven solutions in their workplaces. It is one of the six components envisioned by NZASAP to bring together a diverse range of ambassadors from around the world to advocate for environmental conservation.
In addition, the ambassador, advocate, mentor, boss, and employer are further access points that stakeholders might use to support the WCAS.
According to Blessing Ewa, NZASAP's West African coordinator, both sides supported the agreement to strengthen the project's reputation and integrity in Nigeria.
While registration may be simple in many nations, she stressed that "time is short" and "partnership is faster."
Ewa regarded EnvroNews as a worthy partner, which she claimed led NZASAP to consider the company as a collaborator and the programme's first sponsor.
She went on to say that after careful consideration, her company decided to collaborate with the renowned publishing house on environmental and sustainable development issues.
The NZASAP's West African coordinator hinted that lead advocates are currently being sought across the nation's 36 states to spearhead the campaign, which, she said, allows the first individual to join up for free with unique artwork on their t-shirt to symbolise their pioneering position in each state.
Beth Galit, the NZASAP's founding Mother, stated that early adopters will be heroes due to the responsibilities they will play in connecting with colleagues.
"It's one thing to silently hold up a protest sign," she explained, "but it's quite another to sit down with coworkers and start this conversation."
Galit emphasised that the ambassador's tag indicates the high level of diplomacy that would be required and asked every right-thinking firm to keep this in mind when employing future personnel.
Mr. Michael Simire, publisher of EnviroNews, described the collaboration as "impressive" and "a step in the right direction."
Simire characterised the agreement as a reflection of the significance of the Sustainable Development Goal (SDG 17), praised NZASAP for finding his group worthy of spearheading this great endeavour in Nigeria, and vowed his assistance to guarantee that its goal is met.
Following a final discussion that resulted in the agreement's final signature, he stated that the NZASAP team appears adaptable and "I think we can work with them."
Given that it is a new programme, the publisher of EnviroNews advised that all efforts be made to allay any worries that it may raise with superiors.
There have been several efforts carried out by green businesses and young people; however, Simire specifically noted that this one targets those who work, operate homes, and most likely travel to and from work.
"That's a lot of emissions to potentially cut," he said, emphasising how important this part of society is in addressing the global threats of climate change.
By Etta Michael Bisong, Abuja