Educating youngsters mostly school children on the concept of climate change and its connection with human activities is extremely important to help them contribute their voices and shape the global conversation on sustainable living.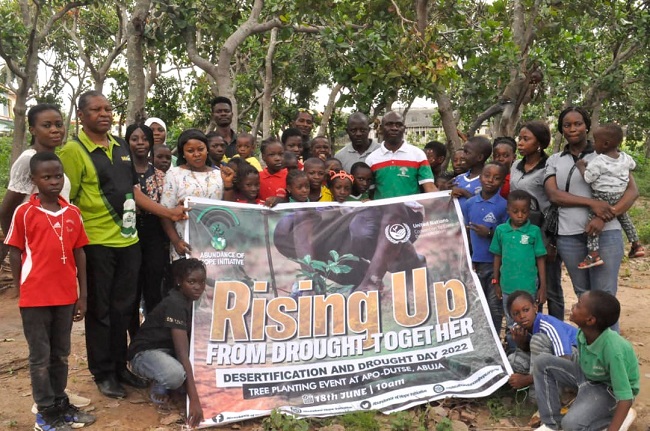 Truly, the future belongs to the youths and if they are not properly educated in terms of giving them the necessary awareness of climate change, then those saddled with this inevitable responsibility are not helping the matter. This is because, in a very short time, these children will become adults and carry over the burden of battling this ecological monster perhaps in more terrible circumstances.
Young people are the ones that will take up from the older generation, so it's unthinkable not to educate them at an early age about climate change and how to cope with it.
"That is why this particular programme that is put together to sensitise members of the environmental club in Harmony International Academy becomes very important in putting a seed of climate change into the heart of these young ones," Ambassador Taiye Sasona, the executive director, Abundance of Hope Initiative (AHI), said while citing a tree planting exercise organised by his establishment to celebrate the 2022 World Day to Combat Desertification and Drought in Abuja.
He hinted that his organisation embarked on the exercise to teach school children about climate change and how it's affecting livelihood sources. It is also aimed at engaging them in tree planting to provide practical knowledge on how to solve the various challenges bedeviling the planet.
Drought and desertification are the aftermaths of climate change, so mobilising young people to plant trees certainly is one of the ways to curb this dilemma. Harmony International Academy is located within an erosion site, and the planting of trees remains most critical if the school must be salvaged from the current environmental threat hampering it.
"Consequently, the choice of choosing this place is to educate the kids on how to help the community as a whole," Ambassador Sasona added. The best time to have done this was 20 years ago, but the next time is now. For that reason, this is just the beginning of the project since its idea is to empower children to go home and talk to their parents about what they have been taught in school.
Environmental education can inspire and help them to build an interest in climate advocacy. It can as well motivate them to take their campaign to the grassroots like farmers because most of them don't know about what is going on.
Building stakeholders' capacity
Building the capacity of stakeholders on climate change, particularly among school teachers is a major component of the solution because they will take the message to the classrooms where these kids are and from there the awareness keeps growing. In due time, many of the instructors will build their curriculum around climate change to instill the needed consciousness at an early age to start taking action to protect the environment.
This kind of scheme can help players in the industry to understand what climate education all is about and fix certain things to avoid some occurrences in the nearest future.
Mr. Simeon Igbe, who represented the Association of Entrepreneurs & Technology Managers of Nigeria (AETMN), wants the government to kick start this process since the climate saga has come to stay.
"My advice for the children is to take climate change as a course and future career as a lot of programmes are going to be channeled in that area," he assured.
Alternative methods of fighting climate change
Discouraging the use of conventional fertilisers and other herbicides that are ecologically unfriendly is another fundamental approach to militating against climate change disasters.
Farmers need to know about the effect of poor agricultural practices and how it subjects the environment to unexpected changes. Many of them cut down trees to use as charcoal for cooking, but they need to understand that it is affecting the natural world and is not sustainable.
Public advocacy
Mass advocacy is required to overcome this hindrance and bridge the information gap. And one of the best methods to achieve this is to encourage the planting of economic trees that will benefit the people and safeguard the environment.
The proprietor of Harmony International Academy, Babatunde Laoye, tasked the children to take what they have been taught seriously and apply it in their daily lives.
Trees play a powerful role in reducing human exposure to climate change; thus, it is essential to continue planting trees to combat erosion, wild wind, flood, and other environmental upheavals.
"We have told them to remain on the lane and they have listened to us," Laoye said. This is vital so that they don't go home and do another thing because "we want them to stick with everything that they have been taught."
By Etta Michael Bisong, Abuja