The Nigerian Meteorological Agency (NIMET) has urged stakeholders in disaster management as well as policymakers to plan early to prevent flooding, rather than sitting back to manage its occurrence.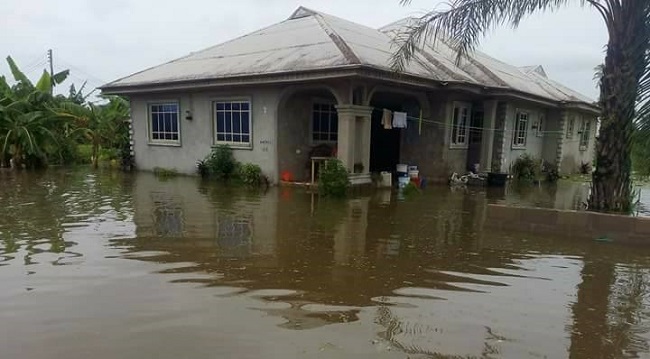 Alhaji Yusuf Mailadi, the Director, Applied Meteorological Services, NIMET, made this call on the sidelines of a Public Presentation of the 2019 Annual Flood Outlook (AFO) on Tuesday, April 30, 2019 in Abuja.
He said this would help to save the country from avoidable devastation, which had become an annual national embarrassment.
According to him, the country now has adequate early warning mechanisms to prevent flooding and minimise associated losses of human lives and property through the Seasonal Rainfall Prediction and the Annual Flood outlook from the Nigeria Hydrological Services Agency (NIHSA).
"What Nigerians should do differently on the early warning systems that are issued by both NIMET and NIHSA is to take them more seriously, policymakers should look at the recommendations, what are the predictions.
"Are there going to be flooding and in which areas, so that they can begin to plan early.
"It is for policymakers and decision makers to take early decisions to avert catastrophe, loss of lives, loss of property, loss of investment, farmers particularly, if you take cognisance of the early warning and begin to prepare, you can avert most of these things.''
He said that NIMET was charged with the responsibility to advice all governments at all tiers on weather and climate information, saying the aviation sector was not left out.
The director said that the agency was also diversifying into agriculture by providing needed information on rainfall patterns, when to plant and also how to inculcate irrigation to increase crop yield and economic development.
"We are trying to diversify into the agriculture sector, to give advice to farmers on when to plant, and when to except dry spell, within the raining season you can see that sometimes, the rain ceases, and the temperatures go high and the crops are affected.
"We try to advice the farmers to make provisions, during this period and that period to make supplementary irrigation, so that your crops don't wilt out.''
Mailadi called for adequate funding and establishment of more hydrological monitoring stations at the rivers, timely and daily forecast would reduce flood risk and vulnerable areas in Nigeria.
The Nigeria Hydrological Services Agency recently inaugurated its Annual Flood Outlook, to provide accurate information on the condition and trend of flood occurrences, with a view to providing early warning systems for its mitigation.
A report released on Monday by the National Emergency Management Agency (NEMA) showed that, as at Oct. 9, 2018, a total of 103 Local Government Areas (LGAs) across 10 states in the country, were impacted by severe flooding with an estimated 1.9 million people affected.
By Tosin Kolade