With 18 billion pounds of plastic filling the oceans each year, this may seem like the last material you'd want to build an eco-house out of. However, this is exactly what has started happening in the neighborhood surrounding Abuja, Nigeria's federal capital city.
By collecting discarded plastic bottles, whole homes are being constructed which are structurally sound and fit for human habitation. This has three main benefits. Firstly, it is a way of cleaning up and repurposing plastic waste. Secondly, it offers cheap housing to the community. Finally, the construction projects are providing work for our unemployed youth. With humans consuming microplastics with their seafood, repurposing bottles for housing could help to keep the oceans clean.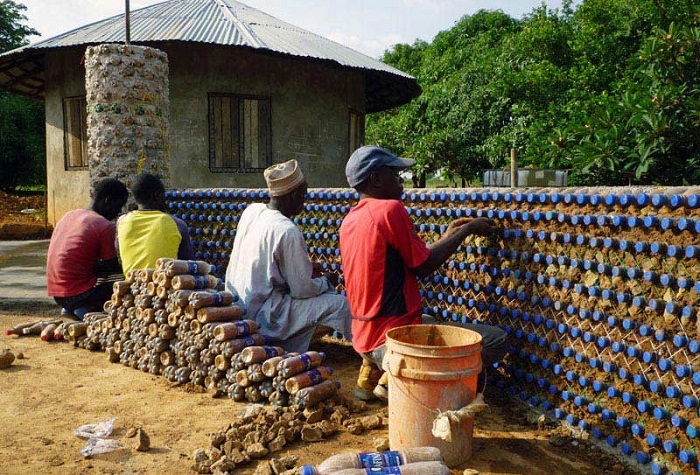 The Problem of Plastic
With a population of 182 million, Nigeria generates 62 million tons of waste each year. If things don't change, Nigeria will be producing over 161 million tons of waste annually by 2025. Much of this is plastic, which can be difficult to recycle, especially if the necessary mechanisms aren't there. The plastic inevitably ends up in drains and flowing into the ocean, where it traps or is eaten by sea life. If it doesn't make it to the ocean, it becomes trapped in drains, causing a risk of flooding during heavy rains.
How are the Houses Constructed?
The biggest house currently under construction, though unfinished, has so far used nearly 50,000 polyethylene terephthalate (PET) bottles. Many of these have been bought from local waste collectors but are increasingly being donated by citizens. The bottles are stacked between sand and concrete to ensure that they keep their shape. Combined with sustainable home maintenance practices, these are likely to be the greenest homes in Nigeria.
Other Potential Societal Benefits
These eco-friendly housing building schemes don't just exist for environmental reasons. Youth unemployment has risen substantially over the last couple of years, from 11.7% in January 2015 to 33.1% in June 2017. Construction is a great way to provide work and encourage people to learn new skills. Once people are earning more, they will be paying more tax which can then be used by the government to invest in recycling schemes.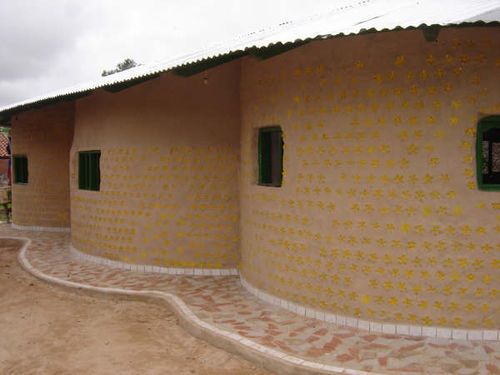 It could also be a solution to the growing housing crisis. Some 108 million Nigerians are classified as homeless, despite 100,000 new houses being built every year. The problem is that many of these houses are too expensive. By using plastic bottles as a building material, costs can be kept down. Although it is early days, if this project works, then it could help to ease the number of homeless Nigerians, providing them with safety and stability.
The plastic housing initiative is certainly unique, but it is also genius. Plastic is a durable and insulating material, making it perfect to fill the walls of modern houses. This provides work and cheap homes, but also repurposes waste which would otherwise line the streets and fill the oceans. This is just one way that the innovation of the Nigerian people is helping to reduce this nation's impact on the environment.
By Cassandra Ally