Health of Mother Earth Foundation (HOMEF) on Wednesday, August 16, 2023, in Abuja warned against the harmful usage of pesticides to safeguard public health in the country.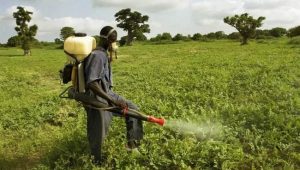 Mr Nnimmo Bassey, Director, HOMEF, said this at a dialogue with decision makers on Pesticides Hazards and the need for a holistic Food Policy for Nigeria.
"Many of the pesticides used by Nigerian farmers contain active ingredients linked to cancer or proven to be carcinogenic.
"These include Glyphosate, Atrazine, Butachlor, Chlorpyrifos, Dichlorvos (DDVP), Endosulfan, and Mancozeb.
"Farmers have reported health problems like difficulty in breathing, dizziness, headaches, nausea, vomiting, eye problems, skin rashes, catarrh, acute diarrhoea, and respiratory problems that are linked with their use of pesticides," Bassey said.
He said that in addition to the deleterious human and environmental health impacts, the dependence of inorganic pesticides in Nigeria has serious implication on the economy.
Bassey said that shockingly, up to 80 per cent of the pesticides used in Nigeria are classified as Highly Hazardous Pesticides (HHPS) and 40 per cent of those produced in the country have been banned in European countries.
"One of the most concerning aspects of pesticide use is the impact on the environment with their ability to leach into soil and contaminate groundwater, leading to long-term damage to ecosystems.
"Also, destruction of beneficial insects, disruption of pollination, and damage to soil micro organisms that are vital for maintaining healthy soils.
"The indiscriminate use of pesticides has led to the emergence of resistant pest population, which further escalates the need for stronger chemicals and intensifies the cycle of destruction," the director said.
He said that one of the result of arguments often posited is that food security can only be achieved with the adoption of modern agricultural biotechnology.
"We note that genetically modified organisms (GMOs) are mostly engineered to withstand dangerous herbicides which kills other varieties except the engineered ones.
"Other crops are genetically engineered to act as pesticides and kill identified pests that would otherwise attack the crop or seeds.
"Examples include Bt Cotton and Bt Cowpea or beans approved for commercial release in Nigeria," Bassey said.
He said Nigeria has a National Biosafety Management Agency Act which ought to safeguard human and environmental health from the risks associated with GMOs.
However Bassey said instead, the law is froth with several lacunas that allow the free movement of these products.
"Some of the gaps in the Act are in the areas of risk assessments and management; access to information; public consultation and participation; liability and redress; labelling and the right to know; decision‐making and appeals and reviews," the director said.
Terseer Ugbor, Deputy Chairman House Committee on Environment, assured that government is committed to policies that would enhance a healthy and more sustainable environment in the country.
Ugbor who was represented by Mrs Omoh Oziegbe, his Personal Assistant, called for the collective support of key stakeholders in the environment sector to ensure that the country is rid of harmful usage of pesticides.
Mrs Oreoluwa Adeyemi, a Legal Practitioner with Alliance for Action on Pesticide in Nigeria, called for the immediate action on a single regulation that is encompassing on the usage of pesticides to safeguard lives.
"The present regulation did not take into cognisance banned pesticides that are still being presented for registration, which other countries are done away with, so that has to be considered," Adeyemi said.
By Abigael Joshua