The minister of health, Prof. Onyebuchi Chukwu, has revealed that Nigeria now has a total of 10 cases of the Ebola virus in the country while revealing that a total of 177 people are also under surveiilance as they are being monitored closely for the virus.
The minister disclosed this at a press briefing held today in Abuja with the objective of giving an update on the Ebola Virus Disease to Nigerians.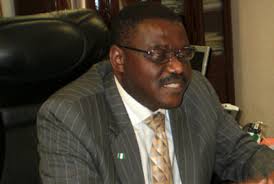 Giving a background of how Ebola was transported into Nigeria through Patrick Sawyer, a Liberian financial consultant, Chukwu said the National Ebola Virus Response Plan is in place in Nigeria and will contain the virus from spreading further.
According to him, "all the forty-eight passengers who had flown to Nigeria with the late Mr. Sawyer were traced through an elaborate contact tracing mechanism. Also, twenty two others (among whom, were the health personnel who treated the late American) were promptly identified, isolated and monitored for symptoms and tests of the EVD.
"Unfortunately, out of the initial 70 under both surveillance and isolation, 9 of them developed symptoms of Ebola and were confirmed to have EVD by the same laboratory at LUTH; tragically, one of them, a nurse, passed away on Wednesday the 6th of August, 2014.
Within the initial forty eight hours of the death of this first Nigerian from EVD, President Goodluck Ebele Jonathan approved the National Ebola Virus Disease Emergency Containment Plan with an immediate cash backing of One Billion Nine Hundred Million Naira only (1.9Billion) which is about 12Million USD to further complement the containment efforts already in place. The Federal Government, through the Federal Ministry of Health and its agencies, works very closely with the World Health Organization (WHO), Unicef, the US Centre for Disease Control and Prevention (CDC), local authorities and other international partners to further deepen and broaden these containment efforts. We shall single out the WHO and the CDC for special commendation for their understanding and continuous support in this challenging moment; particularly for the partnership and most importantly for the capacity building of our Nigeria Centre for Disease Control (NCDC)."
Speaking further, he said "It has been 22 days since EVD first landed in Nigeria. As at today, 177 primary and secondary contacts of the index case have been placed under surveillance or isolation. 9 developed EVD, bringing the total number of cases in Nigeria to 10. Of these 10, 2 have died (the Liberian American and the Nigerian nurse) while 8 are alive and currently on treatment."