A Nigerian, Oluwabunmi Adejumo of the Obafemi Awolowo University in Ile-Ife, Osun State and 16 other early career African scientists nominated by the African Academy of Sciences (AAS) have been selected to attend the prestigious Lindau Nobel Laureate Meetings in 2020. The meetings are the 70th Meeting of Nobel Laureates (Interdisciplinary) and the 7th Lindau Meeting on Economic Sciences.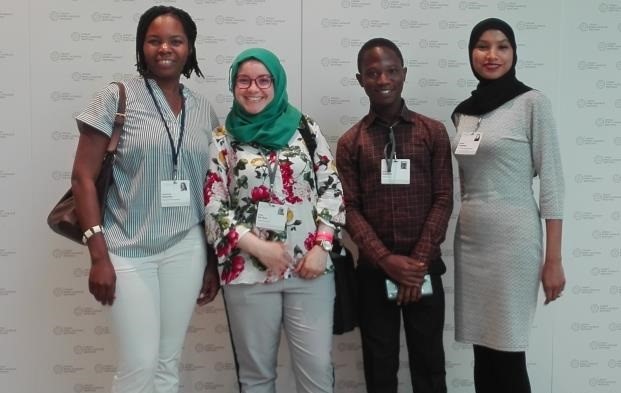 The Lindau Nobel Laureate Meetings take place every year alternating between physiology and medicine; physics and chemistry – the three natural science Nobel Prize disciplines. An interdisciplinary meeting takes place every five years. In addition, the Lindau Meeting on Economic Sciences is held every three years.
They provide a forum for the nominees to engage with their peers from different disciplines across the globe and Nobel Laureates about current developments and future challenges in their field. As an official partner of the Lindau Foundation since 2015, the AAS is invited to nominate young scientists every year and thereafter funds the successful nominees.
Due to the COVID-19 Pandemic, the 70th and 7th meetings have been postponed to June 27 to July 2, 2021 and from August 24 to 28, 2021, respectively. To keep up the momentum however, the Lindau Nobel Laureate Meetings has organised Online Science Days 2020 for the participants from June 28 to July 1, 2020.
These meetings, according to the organisers, will give the young scientists ample opportunities to interact with other participants, among them, 36 Nobel Laureates attending this year's programme. The activities will include innovative formats enabling nominees to share their work with the community, to collaborate online and to discuss science. Furthermore, this year's programme will allow the nominees to connect with the Lindau Alumni.
The AAS Nominees will join another 1,034 outstanding undergraduates, doctoral and postdoctoral students under the age of 35 from 107 countries all selected for their emerging excellence in science.
The 70th Meeting of Nobel Laureates (Interdisciplinary)
1. Lillian Tugume from Uganda at Makerere University in Uganda
2. Caroline Kijogi from Kenya at the Mount Kenya University in Kenya
3. Joseph Tchamgoue from Cameroon at the University of Yaoundé 1 in Cameroon
4. Ella Kasanga from Ghana at the University of North Texas Health Science Centre in the U.S.A.
5. Kwadwo Asare Owusu from Ghana at the Wuhan University of Technology in China
6. Beatrice Nassanga from Uganda at the MRC/UVRI and LSHTM Uganda Research Unit
7. Rawlance Ndejjo from Uganda at the Makerere University in Uganda
8. Neneh Sallah from Gambia at the London School of Hygiene and Tropical Medicine in the UK
9. Doty Ojwach from Kenya at the University of KwaZulu-Natal in South Africa
10. Zakaria Ouhaz from Morocco at the University of Oxford in the United Kingdom
11. Athi Welsh from South Africa at the University of Cape Town in South Africa
12. Dacquin Kasumba from the Democratic Republic of Congo at Universite de Montreal in Canada
13. Morlu Stevens from Liberia at the Akita University in Japan
14. Ahmed Farouk from Egypt at the Wilfrid Laurier University in Canada
The 7th Lindau Meeting on Economic Sciences
15. Chemseddine Tidjani from Algeria at the Research Center in Applied Economics for Development (CREAD) in Algeria
16. Gilles Quentin Kane from Cameroon at the University of Yaounde II in Cameroon
17. Oluwabunmi Adejumo from Nigeria at the Obafemi Awolowo University in Nigeria