Dr Godwin Uyi Ojo, Executive Director, Environmental Rights Action/Friends of the Earth Nigeria (ERA/FoEN), says at the public presentation of a book titled "Nigeria Beyond Oil – Pathway to a Post-petroleum Economy" in Lagos on Tuesday, December 6, 2016 that Nigeria should look beyond oil not only to diversify its economy in the face of dwindling global demand for the product, but also to save the environment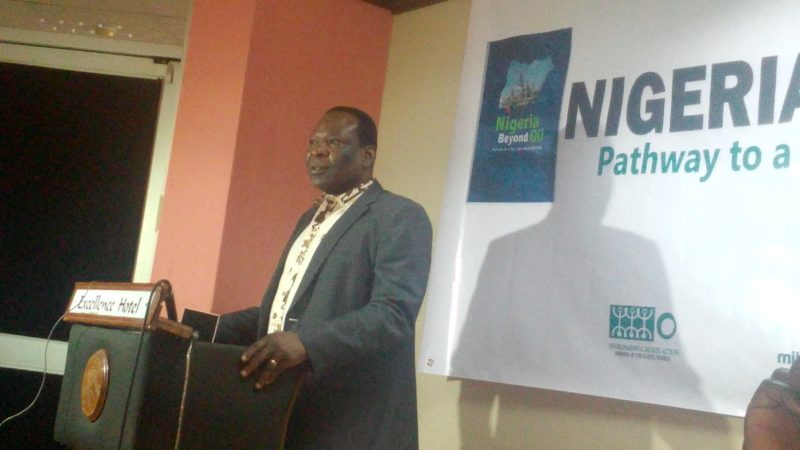 Why are we talking about a post-petroleum Nigeria at this time? The answer is simple but also very complex.
It is no longer news that our nation is passing through very hard times. The failure of successive administrations to save for the rainy day, slide in international oil prices from over $100 to less than $40 per barrel, bombing of oil pipelines across the Niger Delta, among others, have pushed us into the recession we now find ourselves in.
But this development did not come without warning. While Nigeria basked in the euphoria of being Africa's largest oil producer and the sixth largest oil producing country in the world, experts warned that the era of cheap oil would soon end. The International Energy Agency (IAE) had warned of late that global oil demand would slow from a five year high of 1.8 mbpd in 2015 to 1.2 mbpd in 2016 with grave impacts on investments in oil exploration and production.
The slump in oil prices led to a sharp drop in Nigeria's foreign reserves from $36.5 billion in 2014 to $28.7 billion in December 2015 and less than $27 billion in January 2016. A gloomy picture is painted for the end of 2016. Within this period, capital and recurrent expenditure has also dipped to the point where states can no longer meet salary obligations. Even a N359.4 billion bail-out from the federal government in 2015 to help the states meet their obligation has not tipped the situation.
Evidently, Nigeria is now at cross roads. Oil dependency has not helped the nation but has only fueled conflict, corruption, pollution, and wastage while contributing to climate change and the destruction of lives and rural livelihoods.  It is now a painful lesson that a whopping $1 billion will be required for the initial take off of the clean-up of Ogoni according to the UNEP assessment report and recommendations. Since 2011 when the Federal Government accepted the report, not a drop of oil has been cleaned up. The sum of $100 billion initial take-off grant is required for the clean-up of the entire Niger Delta. In spite of the huge oil revenue, poor infrastructural development, gap of inequalities and social disparity is on the rise in Nigeria being one of the highest in the world.
The Book: Nigeria Beyond Oil
The book therefore responds to the question of what development pathway we should follow to get the nation out of the woods.  It seeks to align national development goal to the global shift from fossil fuel dependence to cleaner and efficient fuels such as solar and wind energy that abounds in Nigeria.
It also reiterates ERA/FoEN position of economic decarbonisation by 2050: Let's leave oil in the soil and plan the economy as if oil resources are already exhausted. Let's transit from oil dependency to safe and decentralised renewable alternatives of community controlled energy systems such that communities are co-producers and suppliers as well as beneficiaries from renewable energy investment in mini-grids and non-grid systems.
For this change to occur, the book make the case for funding divestment from oil exploration and development and the removal of loans, grants and subsidies to be invested in renewable energy development and infrastructure that should attract zero tariff. It also advances legislative backing to increase Nigeria's energy mix and revenue from non-oil revenue sources. It draws attention to the issues of natural resource governance, its inclusiveness and sustainability and the need for policy and institutional change to support an energy transition from oil dependency to alternatives in renewable sources.
It promotes the cause of sustainable management and conservation of resources including the rights of nature and citizen's rights to protect it, right to safe, healthy environment, protection of forested landscapes and livelihoods, enforcement of extant laws for environmental crimes, and transparency and accountability issues. In particular, agricultural development should not be to promote large scale agro-business and land grabbing but to support local small scale farmers facing displacement and equip them with post-harvest infrastructure for the added value to stem food deficits and supply from areas of surplus to areas of needs.
The recommendations in this book will assist policy makers in re-framing resource governance in Nigeria and build policy frameworks for post-oil Nigeria. Let's protect the environment. The environment is our life.