The Global Task Force For Cholera Control (GTFCC) on Friday, February 18, 2022, urged the Nigerian government to implement a National Cholera Plan towards eliminating the disease in the country.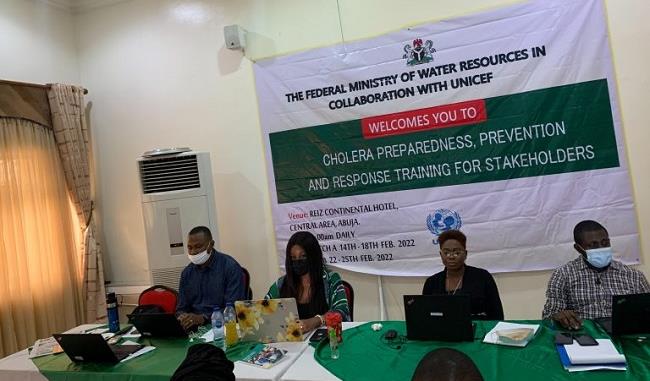 Mr Abel Augustinio, Manager, GTFCC Country Support Platform for Nigeria, made this call at the ongoing Cholera Preparedness, Prevention and Response Training for Stakeholders in Abuja.
The GTFCC is a network of governmental and non-governmental organisations, UN agencies, and scientific partner institutions that helps coordinate activities for cholera control.
According to him, the plan is a comprehensive document covering all aspects of a country's cholera prevention and control strategies.
He said it was crucial for all relevant national ministries, government agencies and institutions should be involved in the process of developing, implementing and monitoring.
He said the approach involved leadership and coordination which would build strong preparedness and response strategies to cholera and through the provision of Water, Sanitation and Hygiene (WASH).
This, he noted, would help to ensure sustainable access to safe water and sanitation solutions for populations most at risk.
He also called for the strengthening of all healthcare systems, as it would help to improve readiness in case of an outbreak.
"The multi-sectoral approach also includes surveillance and reporting to track confirmed suspected cases and also ensure that access to Oral Cholera Vaccine is made available.''
Augustinio said although Nigeria was making huge efforts on cholera response and interventions, it was crucial for all political leaders at all tiers of government to show the highest level of commitment.
"Nigeria already has a draft plan in the last two years, this needs to be updated, it is a huge investment to eliminate cholera, there is need for resource mobilisation and advocacy.''
He noted that surveillance and reporting would help to confirm suspected cases and track progress and also in administering the Oral Cholera Vaccine (OCV), to prevent cholera and protect communities.
Dr Ismail Ahmed, UNICEF Health Specialist, said case management of cholera was multi-sectoral, saying treatment was integrated into total recovery through rehydration, and infection prevention and control.
According to him, all activities in the cholera treatment centres has a goal of improving the health of community members, adding that WHO has a guideline which shows minimum standard in operating a centre.
"The WHO has given a guideline for minimum standards for cholera treatment centres, it can however be changed to fit into the state's preference.
"Resources and capacity may differ, although some cholera responses may be slow, but we have been supported by development partners and it has been helpful.''
Ahmed said the role of WASH was to ensure the adherence to Infection prevention and control measures, adding that health workers must be careful to ensure that they do not get infected in cholera treatment centres.
Chisom Adimora, UNICEF WASH Officer, said availability of data was critical for cholera response and preparedness plan.
She said it was beneficial for evidence-based planning, decision making, resource mobilization and allocation.
She also stressed the need for all states to have a coordinated information platform and action plans, to response to cholera and in emergency situations.
"It is important for data to be available in cholera preparedness and response plan, if there is an outbreak of cholera, we need a rapid needs assessment, location and functionality of water points, cholera hotspot mapping among others.
"That is why we are calling on all states to have a coordinated information platform for effective prevention and response for cholera in the country.''
In October 2017, cholera-affected countries, global donors, and partners of the GTFCC came together to launch a renewed global cholera control strategy.
The ending cholera, a global roadmap to 2030, aims to reduce cholera deaths by 90per cent over the next decade.
With full implementation, the plan could also help as many as 20 countries eliminate disease transmission in the same timeframe.
Based on three pillars – early detection of and response to outbreaks, integrated prevention tactics, and coordination between countries and partners – the roadmap provides a concrete path for ending cholera as a public health threat.
In 2018, Member States endorsed a resolution urging cholera-affected countries to implement the Ending Cholera roadmap.
By Tosin Kolade