Minister of Works and Housing, Mr Babatunde Fashola, has commended the UN Human Settlements Programmes (UN-Habitat) for its commitment towards addressing the global challenges of urbanisation.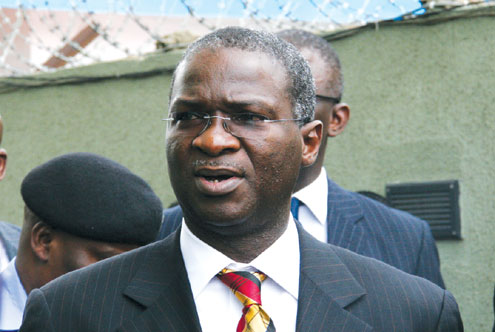 Mrs Boade Akinola, the Director of Press at the ministry, made this known in a statement issued to the newsmen in Abuja on Tuesday, September 17, 2019 after a delegation of the UN-Habitat Mission visited the minister.
The statement said that the visit aimed at briefing him on the outcomes of the validation workshop on the evaluation of the Memorandum of Understanding (MoU) between the Federal Government of Nigeria and UN-Habitat.
It also said that the minister had requested the UN body to supply more information on the areas of intended collaboration.
"Fashola told the delegation that, as a conscious national strategy, Nigeria would look out for how investment would grow the economy and develop the citizenry.
"The challenges of housing needs were more pronounced in the urban cities than in rural communities, there is the need to get data on where people want houses, the type of houses and affordability," the statement quoted the minister as saying.
"The minister assured the delegation that the Federal Government would continue to collaborate and work with the UN body to achieve the clear mandate of the UN-Habit Programme.
"Earlier, the Head of the UN-Habitat delegation, Dr Naison Mutizwa- Mangiza, told the minister about some key outcomes of the validation workshop which included, among others, review of the MoU between UN-Habitat and Nigeria.
Mr Abubakar Aliyu, the Minister of State, Works and Housing, also expressed satisfaction with the level of cooperation and harmonious relationship between the Federal Government and UN-Habitat for the implementation of various sustainable human settlements programmes in the country.
"He recalled that the Federal Government signed the MoU with the UN-Habitat in 2001 to establish a UN-Habitat Programme Support Office (HAPSO) in Abuja.
According to the statement, Aliyu says that the 2014-2015 MOU specifically mandates HAPSO to assist interested governments at all levels through technical cooperation and field projects.
The statement says that other areas of assistance include the provision and exchange of expertise; networking; public information; capacity building and consulting services under the guidance of UN-Habitat's Regional Office for Africa.
By Perpetua Onuegbu