With Germany announcing its support for the Bonn Global Landscapes Forum (GLF), Nigeria and other African countries have been urged to properly coordinate all landscaping efforts in their countries to achieve the desired goal.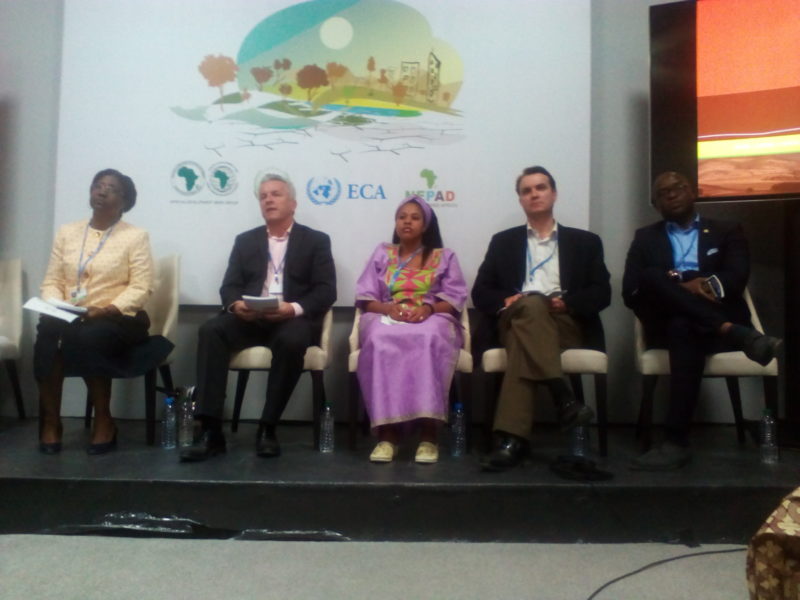 This call came from speakers and participants during a side event hosted by NEPAD at the UN climate change summit (COP22) that ended last Friday in Marrakech, Morocco.
The speakers were Dr Elvis Tangen (AUC, the Great Green Wall for the Sahara and Sahel), Mrs. Rudo Makunike (Senior Programme Officer NEPAD TerrAfrica), Dr Simon Tony (Director General, World Agroforestry Centre and honorary Professor of Tropical Forestry, Faculty of Science, University of Copenhagen, Demark), Mrs. Estherine Fotabong (NEPAD Agency), Rhoda Peace Tumusiime (AU Commissioner for Rural Economy and Agriculture) and Mr Craig Hanson (Global Director for Food, Forests and Water).
Participants at the side event observed that there are different organisations involved in similar landscaping efforts including afforestation, which needed to be coordinated to foster access to funding, accountability, enable project tracking and proper deployment of projects to benefiting areas.
The Bonn Challenge is a global effort to restore 150 million hectares of the world's deforested and degraded land by 2020 and 350 million hectares by 2030. It is an implementation vehicle for national priorities such as water and food security and rural development while contributing to the achievement of international climate change, biodiversity and land degradation commitments.
In her remarks, Estherine Fotabong from the NEPAD Agency agreed that a lot is being done by many African countries in line with the BON challenge, saying nations should not relent because the environment must be protected to sustain the people and future generations.
"The BON challenge is to restore degraded land. It creates jobs, new opportunities and fights climate change. How do we slow down deforestation? Everyone should remember that from one challenge they make, people coming behind should be able to identify what we have done," she said while moderating the session.
Nigeria is a beneficiary the Great Green Wall of the Sahara and Sahel (GGW), one of the landscaping projects in Africa, which aims at creating a wall of trees along desert frontline regions, passing across 11 countries, namely  Burkina Faso, Djibouti,Eritrea, Ethiopia, Mali, Mauritania, Niger, Nigeria, Senegal, Sudan and Chad.
Dr Elvis Tangen, the AU Commissioner, the GGW, said because of the usefulness of the programme, it has been adopted in non-AU countries including Haiti.
According to him, "the desert in Africa came within devastating effects. We saw photos of malnutrition, migration, and conflicts over natural resources, among others, all because of deserts. It was on that ground that the AU put up the GGW. Since 2005, it has been developed. Today, many structures done within the GGW are running in 21 countries and two others including in Haiti, being global program for water and forest and with multiplicity of actors and supporters including NEPAD, World Bank and EU."
The Ms Tumusiime said the restoration of degraded lands is a task that all participating counties must work hard to achieve, to make climate change adaptation and mitigation possible.
"The initiatives contribute to the 2015 Paris climate change agreement which recognises that the restoration of degraded lands and fight against desertification are strategies key to adapt and mitigate climate change," she said.
To Rudo Makunike, the fact that Africa's survival is dependent on land and forest resources makes the BON challenge very key for the continent.
"To save Africa economies we must manage land use in holistic way. A lot of African resources are based on land uses. Our land is affected by land degradation. We should find how the various bodies would work together for one objective. Build on synergies and strengths to provide opportunities for land management.
"TerrAfrica is working in 30 African countries and our partners are AfDB, World Bank, France, Norway and the Netherlands. It was established in 2005 to check all these. Contributing to Africa development agenda 2030 and 2063 to coordinate efforts at various levels to drive development," she said.
By Innocent Onoh