The Federal Government of Nigeria is set to partially commercialise the dams under the nation's 12 river basins to enable them to deliver their mandates effectively.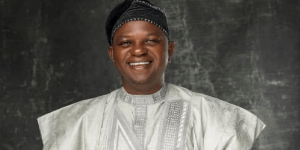 Minister of Water Resources and Sanitation, Prof. Joseph Utsev, disclosed this while speaking to newsmen shortly after inspecting Tiga Dam in Bebeji Local Government Area of Kano State on Wednesday, October 11, 2023.
The minister said the commercialisation of the basins would enable them to generate increased revenues for the Federal Government.
He assured that the huge infrastructure available at the basins would guarantee a return on investments.
He explained that the exercise would ensure sustainable operations and management of their infrastructure.
"The basins have huge infrastructure like water supply schemes, dams and irrigation that require good funding to be able to keep them running and to provide dividends for Nigerians."
He said the aim of the visit was to assess the state of the dam and the challenges with a view of addressing them for optimal growth.
The minister explained that the main purpose of constructing the dam was for irrigation, flood control and energy generation.
"The Federal Government is ever ready to partner commercial farmers to pave the way for massive production of assorted food crops in all-year farming system.
"We are ready to partner with commercial farmers, they come and register with us, and we will allow them to tap water from the dam for commercial farming which will help immensely in enhancing food production."
He said one of the major challenges the dam was currently facing was illegal tapping of the water from the dam by farmers.
"Farmers are tapping water illegally from the canals and this will have negative impact, hence we are working towards calling the attention of the farmers so that they will register with the government and the water would be supplied to them.
"We will also update our data base for effective service delivery," he said.
Earlier, the Managing Director of the Hadejia Jamma'are River Basin, Ma'Amun Dau Aliyu, explained that more than three million farmers were benefiting from the Tiga Dam while hundreds of others were syphoning the water illegally.
He said the basin had since commenced moves to mobilise all those operating illegally so that they would register.
Aliyu hinted that the dam, built 50 years ago, was constructed on 1.4 billion cubic water capacity, and was done on some five million combined Kano/Jigawa population then, but still not being fully utilised.
He said Tiga Dam had canals and small dams that linked up to Lake Chad through Kamadugu River Basin in Yobe State, adding that, with the commercialisation of the dam, more economic inputs would be recorded.
By Aminu Garko