With climate change, Nigeria will lose about 2.5% of its Gross Domestic Product (GDP) per year if nothing is done to address the worrisome phenomenon.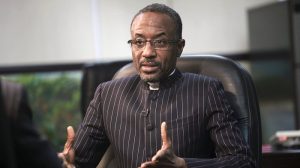 Former Governor of Central Bank of Nigeria (CBN), Sanusi Lamido Sanusi, who made the submission during a conference held in Abuja on Wednesday, July 19, 2023, stated that the nation is experiencing a decline in agricultural output as a result of rising temperatures, water scarcity, energy insecurity, and health risks.
In a keynote address delivered virtually at the two-day Civil Society Organisations (CSOs) Conference on Debt, Development and Climate Change in Nigeria organised by Heinrich Boll Foundation, Sanusi, the 14th Emir of Kano, said: "We have a decline in agricultural output because of the heat. When you think that we are doing 2.2 to 2.5 metric tons per hectare on most crops, when places like China are already doing 14 to 15 metric tons per hectare, if you have a reduction in that, you have a serious challenge in terms of the ability of the country to feed itself. We need to be increasing the yield per hectare.
"You have water scarcity. You now have major conflicts between herdsmen and farmers because of a conflict over water and resources. Lagos and Niger Delta will be at risk. There is energy insecurity as the world turns away from fossil fuels. You have health risks. These are all challenges."
While saying that most people have not come to accept that climate change is a reality, Sanusi lamented that Nigeria appears to be financially constrained to tackle the challenges.
His words: "We have limited financial resources. We also have limited private sector engagement. This is in the face of high adaptation costs and weak financial mechanisms as well as insufficient international funding and data capacity constraints. We have insufficient data on climate change impact and limited capacity to assess the funding needs and track expenditure. This hinders effective planning and resource allocation."
He went further: "The impact on development includes an impact on agricultural productivity, the impact on our energy infrastructure, particularly hydropower generation when the water levels begin to decline and that affects your ability to generate hydropower, issues around natural resource management, health and social costs, as well as insecurity. We have already seen the impact of climate change on insecurity as the struggle for water and grazing land has led to conflicts in the northeast and northwest of the country and even some parts of the south between herdsmen and farmers."
As a way out, Sanusi urged government to prioritise climate change issues and integrate them into national development plans, policies and budgets.
He said: "We need to increase budget allocation to climate change initiatives, establish a dedicated national climate change fund that can pull resources from domestic and international sources, collaborate with regional bodies such as ECOWAS and engage in international climate change negotiations.
"We need to seek support from international climate finance mechanisms such as the Green Climate Fund, Global Environment Facility and Climate Investment Funds.
"We need to have private sector engagement by encouraging private sector entities to invest in climate friendly projects, foster collaboration between government and private sector and encourage the issuance of green bonds by Nigerian companies."
On the nation's mounting debt profile, Sanusi said the situation is no longer sustainable in the face of current harsh economic realities created by former President Muhammadu Buhari administration.
To this end, he urged President Bola Ahmed Tinubu to opt for selling up to 15 per cent of the NNPC Limited stakes and use the proceed to settle part of the Nigeria's debt which rose to N46.2 trillion at the end of 2022 from N12 trillion in 2015 when Buhari became the President.
Sanusi, who blamed Buhari for the present economic woes, said: " I'm sure, we are aware that we have to sell some national assets to reduce debt because that's the only way you can create the fiscal space to do the kinds of things you want to do."
When asked how the government could fund the budget deficit and build infrastructure without taking loans in the face of dwindling revenue, Sanusi responded: "The government should sell between 14 and 15 percent of NNPC shares to reduce debt."
Sanusi noted that, between Q1 2015 and Q4 2023, real GDP growth averaged only 1.37% which is below the rate of population growth and indicating a high level of poverty in the country.
"About a year ago, I pulled up some numbers and I was shocked to realise that our capital income in dollar terms at the end of the Buhari administration had gone back to where it was when he left us in 1985. So he had basically  wiped out all the progress we made in 35 years, in those eight years.
"We were at about $2,200 (Per capita income) when he left. We had gone up to over $3,000. And by the time he left again (in 2023), we had gone back to $2,000. So he basically wiped out all progress made in 35 years.
"We basically have to start all over again from 1985. And that, I think, tells you how bad the situation is," Sanusi emphasised.
The conference was organised in collaboration with the African Network for Environmental and Economic Justice (ANEEJ), the Centre for the Study of Economies of Africa (CSEA), the Civil Society Legislative Advocacy Centre (CISLAC), Good Governance Team (GGT), and the Centre for Climate Change & Development (CCCD) of the Alex Ekwueme Federal University.
By Michael Simire