Director General, National Biotechnology Development Agency (NABDA), Prof. Abdullahi Mustapha, has called on Nigerians to embrace biotechnology as one of the tools to enhance food security and avert food crisis in the country.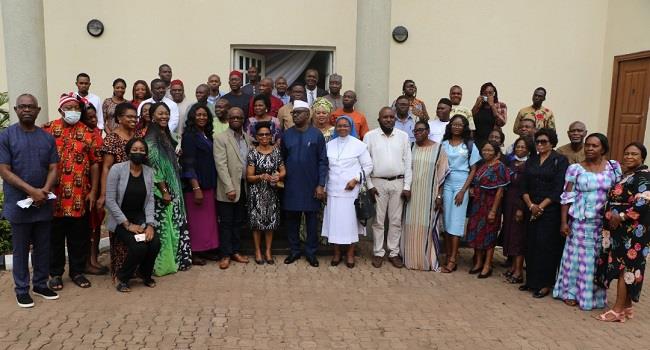 Prof Mustapha made the observation at the opening of a one-day sensitisation workshop on the role of biosafety regulation and modern biotechnology towards economic diversification in Nigeria for Southeast stakeholders in Enugu on Wednesday, March 23, 2022.
"Nigeria is currently at a crossroad in view of looming food crisis, and this requires that all hands must be on deck to fashion out strategies on how to improve and boost agricultural productivity to guarantee food and nutritional security. In the last 30 years, we were comfortable with agricultural productivity because then we had less people to feed and the soil was very productive, so even with aged farming population, we did not envisage food crisis but today, we cannot afford such luxury as most of our population goes to bed hungry on daily basis," he said.
The Director General said the farming population has also not improved rather the youth have completely handed off farming, leaving it in the hands of our fathers who are already in their late 50s and 60s.
According to him, the sensitisation workshop is to, among other things, shed some light on that we cannot continue to rely on the aged population to feed the nation of over 200 million people.
"We can also not rely on the same piece of land to be as productive as it was 20 years ago, the time has come for us as a nation to fully embrace technologies that will change our farming experiences."
He noted that, in the last decade, scientists across the country have been working and seeking for solutions to the challenges confronting farmers especially as it relates to yield potentials of legumes.
He said the difference between agricultural yield in Nigeria and other parts of the world is not only alarming but very disturbing.
"Our legumes are not performing according to their potentials, hence, the introduction of technologies to ensure that our quest for food and nutritional security is guaranteed.
"The greatest setback for the agricultural productivity in this country include absence of a coherent information system that keeps farmers abreast with latest development in the field of agriculture, today most of our farmers cannot differentiate between grains and seeds.
"The absence of good agronomic practices is another issue that is affecting agricultural productivity in this country, farmers are not only saving seeds from previous harvest but do not know that the seeds need to be treated to become good quality seeds to enhance better performance.
"A good quality seed is a seed that is healthy and proficient enough to resist drought, herbicides, diseases, and can produce a healthy plant with more nutritious grains, and more in number is called but this is far from what farmers experience with their saved seeds. Farming is about having strong harvestable yield that will get you economically empowered," Prof. Mustapha added.
In a presentation, Dr Rufus Ebegba, Director General, National Biosafety Management Agency (NBMA), said Nigeria is on track in the regulation of genetically modified products.
"Nigerians have nothing to fear, we are established by the federal government to regulate products that are genetically modified to ensue that it does not have any negative impact on human and the environment," he said.
The workshop attracted participants from the Eastern states, members of the academia from Godfrey Okoye University, Enugu State University of Science and Technology and University of Nigeria, Nsukka.