Chief Economist, PricewaterhouseCoopers (PwC), Africa, Mr Andrew Nevin, has said that Nigeria needs a minimum of 700,000 housing units yearly to be able to bridge the country's 17 million housing unit's deficit.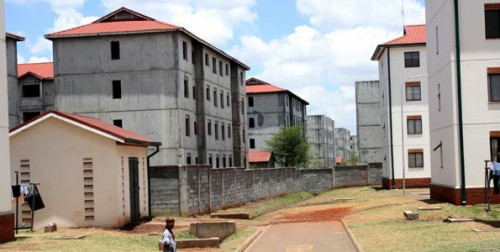 Nevin said this on Tuesday, January 28, 2020 while delivering a keynote address at the BusinessDay 2020 Nigeria Economic Outlook Conference with the theme "Nigeria's Prosperity Ahead 2030 Population, Data, Productivity," in Lagos.
He said that finding an urgent solution to resolve the issue had become imperative.
The economist said that the challenges facing settlements such as the demand for infrastructure, basic services and housing were always on the increase.
Nevin said that housing facilities were grossly inadequate, and even the deficit, estimated at up to 17 million, was growing at about 20 per cent a year.
"Nigeria holds about $300 billion or as much as $900 billion worth of dead capital in residential real estate and agricultural land alone.
"Almost 50 per cent of the Nigeria population lives in cities and about 80 per cent of this urban population lives in substandard conditions,'' he said.
According to the economist, Nigeria remains the largest economy in Africa, while Lagos State is the fastest growing city in Africa with about 77 persons added to the population every hour.
Nevin gave the estimate of the current output of the formal housing sector to range between 100,000 to 200,000 per year.
He described Nigeria as Africa's leading economy and also the number one African country for remittances which is among the top five countries globally for inward flows and the largest recipient of remittance flows to Sub-Saharan Africa (SSA) in 2018.
Nevin said the migrant remittance to Nigeria rose by 14 per cent after a brief decline in 2016, from $22 billion in 2017 to over $25 billion in 2018.
"The 2018 value represented 6.1 per cent of Nigeria's Gross Domestic Product (GDP), which is 11 times of the Foreign Direct Investment (FDI) inflows and 7.4 times larger than the foreign aid received in 2017," he said.
According to him, the remittance inflow is projected to increase to over $29 billion in 2023, underpinned among other factors on the rising migrant population of Nigerians.
Nevin outlined the seven themes expected to shape the Nigeria economy in 2020, which include Dead Capital, Power of Diaspora, Large Informal Sector, Shrinking Public Fund and Low Tax.
Others are measure of Sustainable Developmental Goal (SDG) and not the GDP, Disparate growth at the sub-national level and investment rate to GDP.
In his welcome address, Mr Frank Aigbogun, Publisher, BusinessDay, said the Newspaper, as part of its commitment to the development of the country, sought to bring together important players across the industry to get prepared for the next 10 years.
He cautioned that with the fast -changing global environment, Nigeria's policy makers needed to address some crucial issues "such as our stand in the new decade and what will happen to the size of the Nigerian economy".
Aigbogun said actions to be taken to change the dynamics of growth across sectors such as power, education, energy, agriculture, manufacturing, among others, must be of great concern to government and stakeholders.
"A strong and dynamic action programme driven by all concerned for a sustainable development must be put in place for the future of the country," he said.
By Rukayat Adeyemi and Michael Ajayi