Nigeria has taken a major step towards developing a pathway for pollinator protection by aligning with a global initiative to make the dream a reality. An action plan to that effect has subsequently been reviewed and adopted.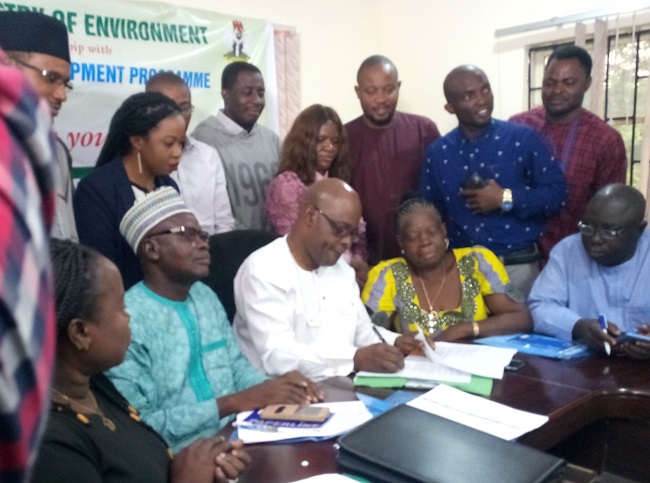 History was made on Thursday, July 25, 2019 in Abuja when federal officials signed the Declaration of the Coalition of the Willing on Pollinators, an alliance aimed at promoting pollinator protection in countries. The signing affirms the nation's intent to act and implement a national strategy to protect pollinating species threatened with extinction.
Participants at the daylong forum also tabled for review and subsequent adoption the Pollinator Friendly Land Degradation Neutrality Country Action Plan, which was produced from the Biodiversity and Ecosystem Services Network (BES-Net) third "Anglophone Africa Regional Trialogue: Bright Spots for Land Degradation Neutrality (LDN), Pollinators and Food Security" workshop held from May 28 to 30, 2019 in Nairobi, Kenya.
BES-Net is a capacity sharing "network of networks" that promotes dialogue between science, policy and practice for more effective management of biodiversity and ecosystems, contributing to long-term human well-being and sustainable development.
The Nairobi meeting featured a mix of participants with diverse expertise and complementary knowledge from Ethiopia, Ghana, Kenya, Malawi, Nigeria and Zambia, who jointly reviewed the key messages of the two inter-linked thematic assessment reports produced by the Intergovernmental Platform on Biodiversity and Ecosystem Services (IPBES) on pollinators and land degradation and restoration. Delegates also assessed the report's relevance in the ongoing efforts to achieve LDN and other land-related Sustainable Development Goals (SDGs) targets.
Nigeria thus becomes the 28th signatory to the Declaration of the Coalition of the Willing on Pollinators. She follows on the footsteps of Parties such as Austria, Belgium, Colombia, Denmark, Dominican Republic, European Union, Finland, France, Germany, Ethiopia, Ireland, Luxemburg, Mexico, Slovenia, Netherlands, United Kingdom, Slovakia, Peru, Spain, Sweden, Uruguay, BES-Net, Norway, Estonia, Bosnia Herzegovina, Morocco and Burundi.
By signing the Declaration, Nigeria commits to:
taking action to protect pollinators and their habitats by developing and implementing national pollinator strategies, consistent with the (IPBES) thematic assessment on pollinators, pollination and food production;
sharing experience and lessons learnt in developing and implementing national pollinator strategies, especially knowledge on new approaches, innovations and best practices;
reaching out to seek collaboration with a broad spectrum of stakeholders;
developing research on pollinator conservation; and,
mutual support and collaboration.
Mr Sikiru Tiamiyu, a Deputy Director in the Forestry Department of the Federal Ministry of Environment, who signed the Declaration, said: "The project is about pollinators and how it relates to land degradation. The idea behind the project is that, for any crop to yield, there must be pollination. There are different types of pollination such as insect and wind pollination. But, in most cases, insect pollination is more effective, that is insects moving from one flower to another for nectar. No matter how good your crop is, if there is no pollination, it will not yield.
"BES-Net is championing the programme under the IPBES. We are gradually commencing the initiative in Nigeria. When we went for the workshop in Kenya, we formed a national team, and that is why we contacted some professionals, academia, NGOs, and community development people across the country, who are now contributing to the project. According to the action plan, it is a national issue. We have been able to raise a national team of experts. This is a starting point and it will continue to expand down to different states. Today, we were able to adopt an action plan, which will guide our activities."
Mr. Muyiwa Odele of the United Nations Development Programme (UNDP) submitted: "One of the key pillars of our strategies is what we have called nature-based solutions What we try to do is to look at the best way we can provide support to government by looking at activities that will strengthen private sector engagement in areas of management of biodiversity. And also to look at some of the challenges that are inherent within government and see how we can also address some of those challenges and the gaps."
On the Nairobi meeting, he remarked: "The meeting for me was an eye opener because it was the first time that I had the opportunity to see the issue of land degradation, the issue of food security and the issue of pollinators brought together in one particular meeting. The meeting showed that there is no way you can address the issue of biodiversity without addressing environmental degradation and poverty unless you look holistically about all these things I have talked about. Most of us are familiar with challenges of food security or insecurity in Nigeria. The meeting presented a new way of looking at how to tackle these issues. It also attempted to bring together the different global policies as well as national policies."
In a presentation at the Abuja forum, Dr Kabir Umar, Deputy Director, Centre for Dryland Agriculture at the Bayero University, Kano, listed the principal degradation processes to include vegetation degradation in rangelands, water and wind erosion, salinisation of irrigated and certain semiarid lands, and soil compaction.
In a paper titled "Pollinator Friendly Land Degradation Neutrality National Action Plan", he described pollination as an ecosystem process fundamental to reproduction and persistence of flowering plants, adding that 75% of world's food crops depend on pollination and contribute to 35% of global crop production volume.
"African crops require divers animal pollinators," he said, adding that, besides transforming the relationship between society and nature, as well as agricultural landscapes, the LDN National Action Plan aims at improving current conditions for the maintenance of pollinator populations and pollination services.
Mrs Sikeade Egbuwalo of the Forestry Department disclosed that the official declaration document would be sent to the Coalition secretariat on Monday, July 29.
While saying that the status of pollinator diversity in Nigeria is not yet known, she noted that the Forestry Department, in consultation with relevant stakeholders, would drive the pollinator protection process in the country.