An environmental scientist, Dr. Magnus Onuoha, has said that Nigeria is on the right path in its efforts to halt the effect of climate change in the country through accurate reporting on greenhouse gases (GHGs) emission.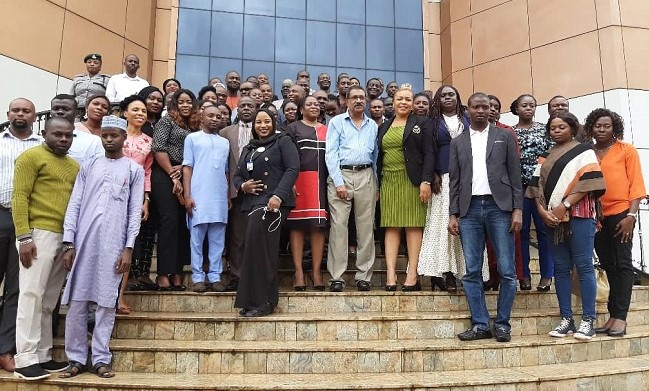 Dr Onuoha who is the Team Leader, Industrial Process and Product Use (IPPU), disclosed this in an interview with EnviroNews at a five-day capacity building workshop for National Reporting on the GHGs Inventory and Mitigation, held in Abuja from August 19 to 23, 2019.
The training was aimed at enhancing capacity for accurate national inventories with reduced uncertainties and to enable Nigeria design, operationalise and institutionalise the quality assurance component of national reporting system.
The Federal Ministry of Environment, in collaboration with the United Nations Framework Convention on Climate Change (UNFCCC) Secretariat and UNDP/UNEP Global support Programme for National Communications (NCs) and Biennial Update Reports (BURs) with additional support by Food and Agricultural Organisation (FAO), organised the workshop.
Participants were drawn from different ministries, parastatals and non-governmental organisations (NGOs).
Dr. Onuoha revealed that the Biennial Update Reports (BUR) Nigeria submitted few months ago in Germany was well received by stakeholders in climate change across the world.
"Yes, we are getting it right. The BUR Nigeria submitted some few months ago was well received, other countries are borrowing a leaf from Nigeria.
"This is the finest moment for Nigeria because, in terms of diversification, once we finish this thing and begin to earn revenue in the long run in post 2020, oil will be a thing of the past."
Explaining the importance of the training, he said: "What we are doing is to, among all the sectors, these are the efforts we are doing. We are trying to do an update of what we recently submitted. We are going to submit another one by March next year, that is BUR2.
"If you look at what we have submitted, agriculture is number one in terms of emission and energy is number two, then waste is number three (3 per cent) and under industry we have 1.8 per cent emission.
"We are looking at various industries. Like what we submitted in BUR1, we found three categories of industries we are looking at. One is the cement industry, fertiliser industry, iron and steel."
According to him, the facilitator was putting the participants through on the processes that would enable Nigeria to qualify for international support in terms of funding and capacity support, technology transfer and others.
He explained that for any country to qualify for assistance from developed countries, "you must pass through what we call Transparent, Accurate, Consistent and Comparable (TACC). It must also be complete you don't leave anything to chance.
"All the indicators must be captured. What we are doing is quality control among ourselves.
"At the end of the day, if our report is able to pass through TACC, under the Paris agreement, there is what we call Article 6 which will enable us to source for funds."
He commended the Nigerian government for its efforts in recent times to, according to him, do the needful on climate change.
"You know our president, Muhammadu Buhari, was in Paris in 2015, he got committed to emission reduction that Nigeria will reduce our emission because the global warming is a reality.
"We want to be part of the 198 countries that got committed and want to reduce emission by 20 per cent unconditionally and by 45 per cent conditionally subject to international support.
"So, in the Paris agreement, we submitted a document called a Nationally Determined Contribution. We had a climate change review in 2015, the Executive Council approved the climate change response as a policy document in 2015, in that document, 13 sectors were identified that were impacted by climate change, but as we went to Paris, we prioritise and saw that five sectors are the priority sectors that are emitting high within all the sectors."