Minister of Environment, Mohammed Abdullahi, says the ravaging flooding in Nigeria and its devastating effects has received the attention  of global leaders who are willing to assist the country.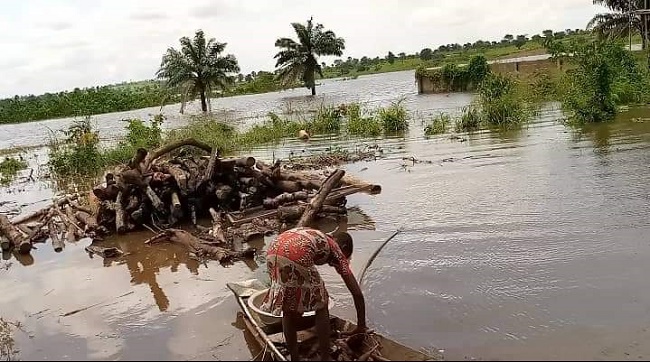 The Minister made this known on Wednesday, December 7, 2022, in Abuja at the eight edition of the President Muhammadu Buhari (PMB) Administration Scorecard series (2015-2023) organised by the Ministry of Information and Culture.
The series was launched in October to showcase and document the achievements of the Buhari Administration.
In a presentation, Abdullahi recalled a recent global event on environment and climate change where President Joe Biden in his speech acknowledged the ravaging flooding, its effects and the need to assist the country.
He said the issue of flooding also gained attractions of other global leaders at some of the sessions held at the international event.
The minister noted that Nigeria was at the forefront of the list of countries to benefit from the global climate change financing.
"What is pending is actually the mechanism for setting up the Fund and the conditions within which a country can access the fund.
"On our part, we have already set out action plans for easy access to the funding through the National Climate Change policies.
"We will do our best to ensure that Nigeria benefits from the outcome of the global climate change financing," he said.
Responding to a question on accusation by some states affected by flooding that the federal government response was inadequate, the minister said it was baseless and unfair.
"Initially, the federal government was solely in charge of ecological fund set aside to address natural disaster such as the flooding.
"The states, however, argued that they must be given their own share of the ecological fund and the federal government accepted.
"At every Federal Account Allocation Committee, the states are given their own share of the ecological fund.
"To come out and accuse the federal government of inaction, it is very unfair especially when they have got their own share of the ecological fund over the years," he said.
According to the minister, the states should be made to account for what they were doing with their share of the ecological fund received over the years.
He added that, his position notwithstanding, the federal government considers flooding as national disaster and it had done enough to support the states that were affected by it.
The 2022 floods in Nigeria affected many parts of the country and, from the federal government data, no fewer than 1.4 million people were displaced while many were killed and injured.
The flood also destroyed thousands of houses while about 332,327 hectares of land were also affected.
By Rotimi Ijikanmi