The National Commission for Refugees, Migrants and Internally Displaced Persons has expressed concern over Cameroonian authorities' decision to deny entry to 35,000 displaced persons from Nigeria's state of Borno.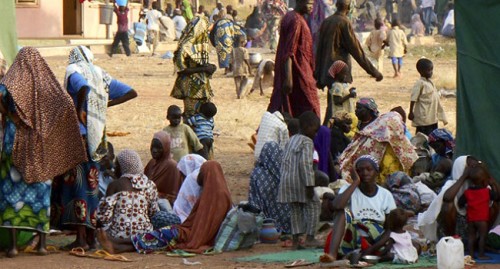 Head of the commissioner, Sadiya Farouq, said while presenting relief items for the affected displaced persons at the Government House, Maiduguri, that the refugees were left stranded at the border.
Farouq disclosed that the refugees were those displaced in attacks coordinated by Boko Haram insurgents on January 14, 2019 at Rann community in Kala Balge Local Government Area of Borno State.
He explained that the displaced persons who fled the conflict were stranded at the Nigeria-Cameroun border, sequel to the decision of the Cameroonian authorities to deny them entry.
Farouq said: "The displaced persons ran for safety but were denied entry into Cameroon. They are stranded along the border as they could not go back to their communities for fear of renewed attacks.
"The trend left us devastated; hence, my visit to Borno to attend to the immediate needs of the displaced persons.
"The commission, in line with its mandate, will provide durable solutions to persons of concern. We handed over relief items to Borno government for distribution to the affected persons."
Farouq added that the gesture was aimed at improving the living conditions of persons recently displaced due to insurgents' attacks in the state.
According to her, the commission is monitoring the situation to facilitate implementation of durable solution, including possible relocation and resettlement of the IDPs.
Farouq added that the commission had liaised with the Ministry of Foreign Affairs to initiate negotiations with Cameroonian authorities with a view to finding solution to the impasse in accordance with the United Nations Convention on Refugees.
She quoted sections of the UN charter, affirming that "no contracting state shall expel or return a refugee in any manner whatsoever to frontiers of territories where his or her life or freedom will be threatened on account of his or her race, religion, nationality, membership of a particular social group or political opinion."
The commissioner urged the Cameroonian authorities to rescind its decision and take necessary steps to support the displaced persons.
Farouq recalled that over 40, 000 Cameroonian refugees were allowed into the Nigeria since October 2017, adding that the commission provided support to the affected persons of concern.
"They are currently camped in Cross River, Benue, Akwa Ibom, and Taraba states, as well as the Federal Capital Territory (FCT). This is a clear demonstration of Nigeria's commitments to the international humanitarian obligation and spirit of good brotherhood.
"It will also interest you to know that the federal government has given the go ahead, including funding for Technical Working Group of the Tripartite Commission for safe and dignifying return of Nigerian refugees in Cameroon to other stable areas in the country.
"The movement will be done in a safe and dignifying manner as clearly spelt out in the Tripartite Agreement between the Federal Republic of Nigeria, Republic of Cameroon and United Nations High Commissioner for Refugees (UNHCR)," she added.By Hamza Suleiman