Nigeria has successfully contained a five-month cholera outbreak in conflict-affected Borno State, with support from the World Health Organisation (WHO) and other health partners.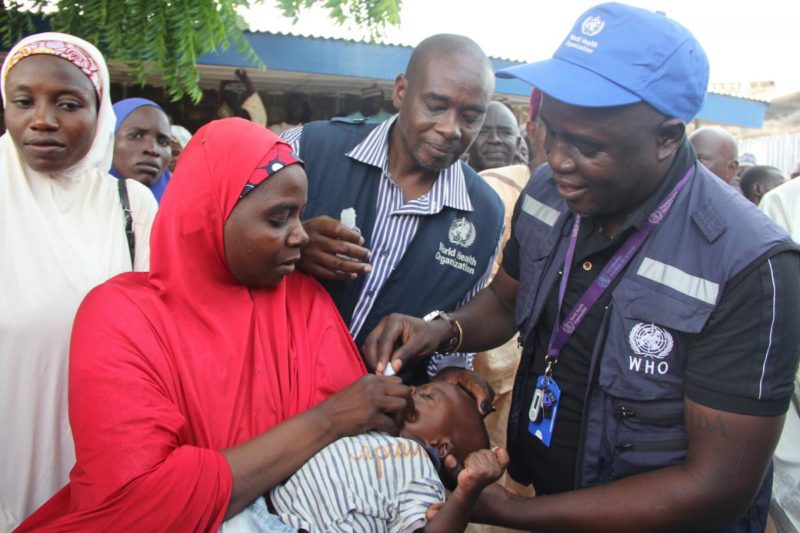 The Government announced the end of the outbreak on Thursday, December 21, 2017 after two weeks had passed with no new cases.
"With the support of WHO and other health actors, Borno State moved to quick action to control the outbreak. With that strong resolve to limit mortality and morbidity, this was achieved, and we can say that we have succeeded," said Dr Muhammad Aminu Ghuluze, Director of Emergency Response, Borno State Ministry of Health.
A major Oral Cholera Vaccine (OCV) campaign contributed to the effort – the first of its kind in Nigeria.
With support from Gavi, the Vaccine Alliance, the International Coordinating Group (ICG) provided 1.8 million OCV doses to immunise 900,000 people in two rounds between September and December this year.
Following an initial spike in cases, the number of new infections dropped significantly after the vaccination campaign concluded.
"Containing cholera in the midst of an ongoing conflict is a major accomplishment," said Dr Wondimagegnehu Alemu, WHO Representative in Nigeria. "No single measure would have worked on its own. This was a joint effort employing a range of tools by many partners under the leadership of the State Ministry of Health."
The outbreak began in August on the outskirts of Maiduguri, and quickly spread through several camps for internally displaced persons and host communities. By December 19, 5,365 suspected cases had been reported, including 61 deaths.
An early warning and surveillance system supported by WHO was critical to providing data on suspected cases in different locations. WHO pinpointed where the outbreak was expanding and contracting through a GIS "dot mapping" approach, which allowed WHO and partners to effectively target interventions.
The response included providing safe chlorinated water, identifying and treating the sick in established cholera treatment centres, reaching out to communities with information on cholera prevention, and facilitating laboratory testing to confirm new cases.
Partnerships with local media helped to ensure that people in affected and neighbouring communities were aware of the risk of cholera, how it is spread, how to prevent it, and the importance of seeking treatment when they experience the symptoms.
Due to ongoing conflict, many people in north-eastern Nigeria have not had access to basic healthcare and routine immunisations for years, and health conditions in many camps for internally displaced persons are sub-standard.
WHO is working with the Government and health sector partners to improve access to basic health services, including to areas considered inaccessible until only recently. However, a recent uptick in the conflict in Borno and neighbouring states has led to new displacements increasing the future risks of disease outbreaks.
"While the achievements of the cholera programme in Borno State are a significant milestone, cholera is endemic to north-eastern Nigeria and future outbreaks remain likely," said Dr Alemu. "We must be vigilant to the warning signs that could signal another outbreak of cholera or other epidemic-prone diseases."
In line with the Global Roadmap for Ending Cholera by 2030, WHO says it will continue to support Nigeria to prepare for and prevent cholera by focussing on prevention and preparedness in hotspots across the country.
According to the WHO, some 10.2 million people are in need of humanitarian assistance in 2018 in north-eastern Nigeria. More than half are women and girls, while children make up 63 per cent of those needing assistance. The most acute humanitarian needs are concentrated in Borno State – and areas bordering Borno in Adamawa and Yobe states – where the crisis shows no sign of abating, according to the WHO.
To continue providing basic health services, while looking to rebuild north-eastern Nigeria's health system, the health sector is seeking $109.5 million to help 5.1 million people in 2018.