The Federal Government has been called upon to mainstream health and health related issues into the nation's Nationally Determined Contribution (NDC).
NDC means nationally-determined greenhouse gas (GHG) reduction target of a country, based on Article 4 of the Paris Agreement and mitigation efforts to achieve the target.  In 2020, nations are to submit new or updated NDCs, also referred to as national climate action plans.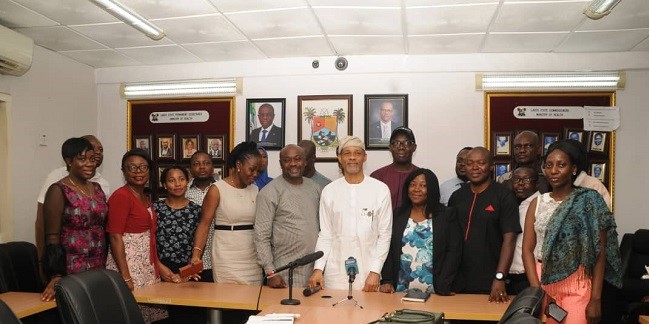 The call was made at the close of a daylong "Roundtable on Addressing the Importance of Climate Change and Health Sector in Nigeria's Nationally Determined Contribution (NDC)" held in Lagos on Thursday, November 28, 2019 at the instance of Lagos State Ministry of Health, Centre for 21st Century Issues, and Global Emerging Pathogens Treatment Consortium (GET).
While demanding that climate change adaptation actions in the health sector should be identified and climate information system for monitoring health and diseases should be developed, participants also agreed that baseline data that will justify the urgency of implementation of climate actions in the health and environment sectors should be generated.
Participants, made up of representatives from the civil society, state government ministries, departments and agencies (MDAs), academia and the media, had earlier expressed concern over the fact that not only have the effects of climate change led to the emergence of new diseases and the disruption of natural habitat of animals now occurs as a result of climate change, but that 75% of human diseases are from animals and 80% of non-communicable diseases occur from the environment.
"The link between data generation, policy development, advocacy and implementation of climate action should be clearly defined as a top priority for government to prevent a catastrophe in Lagos," the communique warned, stressing that apart from harmonising existing data on health and environment and strengthening advocacy on the impacts of climate change and health, governments should be firm on enforcement of health and environmental laws.
Participants further agreed thus:
Enabling environment and incentives should be provided to industries which focus on environmental management;
The One-Health approach which integrates human, animals and the environment should be adopted;
A multi-sectoral plan of action with deliverables at state, national and the global levels should be developed;
Stakeholder collaboration between all relevant sectors should be strengthened;
A health and environment strategic plan with potentials for economic growth should be developed; and,
The Lagos Climate Change Conference should be institutionalised.
The meeting was chaired by the Lagos State Commissioner for Health, Professor Akin Abayomi; and co-chaired by the Commissioner for the Environment and Water Resources, Tunji Bello, who was represented by Mr Bankole Michael, Assistant Director/Head Climate Change and Environmental Planning Department; and Dr Babatunde Saka, Executive Secretary of the Global Emerging Pathogens Treatment Consortium (GET).