Wellcome and the Bill & Melinda Gates Foundation have announced funding to advance a tuberculosis (TB) vaccine candidate, M72/AS01E (M72), through a Phase III clinical trial.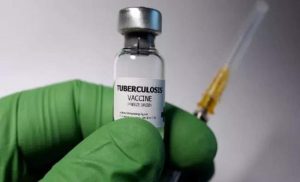 If proven effective, M72 could potentially become the first new vaccine to help prevent pulmonary TB, a form of active TB, in more than 100 years.
Wellcome and the Bill & Melinda Gates Foundation made the announcement at a virtual news conference on Wednesday, June 28, 2023.
The event featured Trevor Mundel, President of Global Health at the Gates Foundation; Alexander Pym, Director of Infectious Diseases at Wellcome; and Nomathamsanga Majozi, Head of Public Engagement at the Africa Health Research Institute.
The only TB vaccine in use today, Bacille Calmette-Guérin (BCG), was first given to people in 1921.
It helps protect babies and young children against severe systemic forms of TB but offers limited protection against pulmonary TB among adolescents and adults.
TB is one of the world's deadliest diseases, killing about 4,300 people per day, mostly those living in poverty.
In 2021, an estimated 10.6 million people fell ill with TB and 1.6 million died – about 4,300 people per day.
The disease primarily affects people in low and middle income countries, and those at highest risk are often living in poverty, with poor living and working conditions and undernutrition.
Up to a quarter of the world's population is thought to have latent TB, a condition in which a person is infected with the bacterium that causes TB but does not have any symptoms and is at risk of progressing to active TB disease.
To support the M72 Phase III clinical trial, which will cost an estimated US$550 million, Wellcome is providing up to US$150 million and the Gates Foundation will fund the remainder, about US$400 million.
The vaccine, called M72, will be given from Year 2024 to 26,000 young adults in Africa and south-east Asia who have a latent infection with the bacteria that cause TB but no symptoms.
Commenting on the efficacy, Trevor Mundel, the Head of Global Health at the Bill & Melinda Gates Foundation, said that M72 had shown much promise in preventing TB in people with latent infections, but were not ill.
This, he said, was an important segment of the population to target.
However, "clear evidence about M72's efficacy in preventing the emergence of active pulmonary tuberculosis will take several years to emerge from trial.
"Of course we'd be happy with 90 per cent efficacy but from our modelling, 50 per cent is good enough on the assumption that the durability is at least five years.
"Most of the vaccinologists who have looked at the data have said that is likely."
He said the trial would probably last for four to six years.
Speaking on affordability, he said making the vaccine as affordable and as accessible as possible would be very important.
Julia Gillard, Chair of the Board of Governors at Wellcome, said: "TB remains one of the world's deadliest infectious diseases.
"The development of an affordable, accessible vaccine for adults and adolescents would be game-changing in turning the tide against TB.
"Philanthropy can be a catalyst to drive progress, as shown by this funding of the M72 vaccine as a potential new tool in preventing escalating infectious diseases to protect those most affected.
"Sustainable progress against TB and wider disease threats will depend on global collaboration, financial backing, and political will.
"By working with communities and researchers in countries with a high burden of the disease, we can get one step closer to eliminating TB as a public health threat."
Nomathamsanqa Majozi, Head of Public Engagement at Africa Health Research Institute, said: "Despite being curable, TB remains one of the leading causes of death in South Africa.
"In the area where I live and work, more than half of all people have had, or will have TB at some points in their lives.
"The consequences are devastating, both at a personal and a community level. M72 offers us new hope for a TB-free future.''
Alexander Pym, the Director of Infectious Disease at Wellcome, said TB was one of the biggest health challenges in the world.
"Treatment is still four to six months long. Diagnostics can still not diagnose early enough to prevent transmission.
"Added to that is the threat of latent TB."
He said the human immune response to TB was much more complex than to an acute viral infection and this made the process of developing a TB vaccine much longer.
"The challenge is big. We need new approaches and tools," he said.
According to Pym, a TB vaccine will really be a game-changer; there is a need for TB innovation.
Bill Gates, Co-chair of the Bill & Melinda Gates Foundation, commented in a joint statement by the organisations.
"With TB cases and deaths on the rise, the need for new tools has never been more urgent.
"Greater investment in safe and effective TB vaccines, alongside a suite of new diagnostics and treatments could transform TB care for millions of people, saving lives and lowering the burden of this devastating and costly disease."
World Health Organisation (WHO) Director-General, Dr Tedros Adhanom Ghebreyesus, commended the support by the Gates Foundation and Wellcome to develop a new TB vaccine.
"WHO welcomes the commitments from the Bill & Melinda Gates Foundation and Wellcome to take forward development of this vaccine candidate.
"WHO will keep supporting vaccine development and access more broadly through its TB Vaccine Accelerator Council."
By Augusta Uchediunor and Vivian Ihechu