The daily one-hour commute between the densely populated Senegalese capital and the new suburb of Diamniadio will soon be cut in half when the new Regional Express Train (TER) comes into service.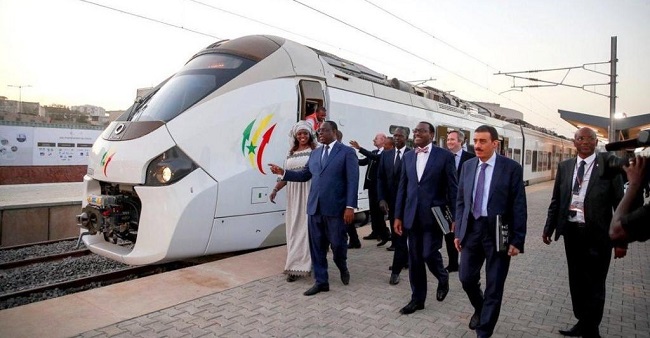 With a population of approximately three million, Dakar is home to 25% of Senegal's total population. An efficient, safe and fast mass transit system has been described as a strategic response to the development challenges of the Senegalese capital.
The TER route will link Dakar with the Blaise Diagne International Airport, via the new rapidly developing business centre of Diamniadio. The first phase of the €1 billion project received funding from the African Development Bank, the Islamic Development Bank, the French Agency for Development, the French Treasury and Senegal.
Senegal is the second country in West Africa, after Nigeria, to adopt a dual-mode (electric and diesel) mass rail transit system. When the Regional Express Railway becomes fully operational, it will take just 35 minutes to travel from Dakar to Diamniadio, half the time the 55-kilometre road trip currently takes during peak traffic hours.
Work on the second phase, linking Diamniadio with Blaise Diagne International Airport, will start immediately after completion of the first section in June 2019.
At an official ceremony for the handover of the first coaches for the railway on Monday, January 14, 2019, Senegalese President Macky Sall remarked: "This is the first railway project in an independent Senegal after the Dakar-Rufisque line was built in 1883."
"We chose to position ourselves at the forefront of progress, right from the invitation to tender for the TER. Every carriage in this dual-mode electro-diesel train has air-conditioning and Wi-Fi. The people of Senegal deserve to travel in comfort and safety, and to save both time and money," Sall said.
President of the African Development Bank (AfDB), Akinwumi Adesina, said: "This outstanding and transformative railway project makes Senegal a pioneer in the development of modern high-speed urban transport systems in West Africa."
"This is the largest-ever investment by the Islamic Development Bank in a sub-Saharan Africa project, and it bears witness to our confidence in the country," said Islamic Development Bank President, Bandar Al Hajjar.
Speaking at the event, French Secretary of State in the Ministry of European and Foreign Affairs, Jean-Baptiste Lemoyne, said: "Senegal is a model of emergence. With this train link, you have shown that 'impossible' is not in the Senegalese vocabulary. What the people of Senegal have now, is an advanced Regional Express Train that is on the cutting edge of technology."
The AfDB says it is committed to strengthening urban connectivity and financing road networks and public transport infrastructure. It adds that since it started operations in Senegal in 1972, it has supported 108 operations with an estimated value of $2.9 billion.