The National Environmental Standards and Regulations Enforcement Agency (NESREA) on Thursday, July 15, 2021 seized endangered birds from alleged illegal wildlife traders in Abuja.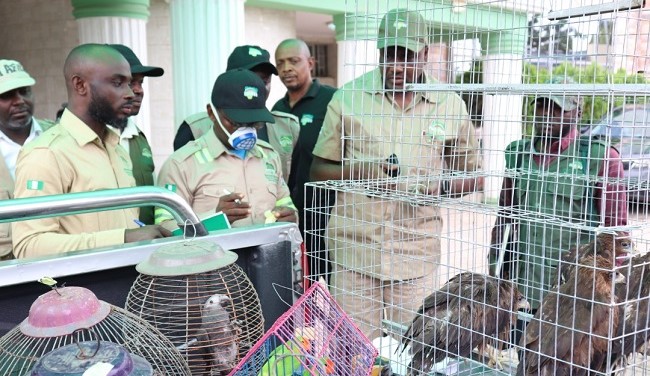 The agency also warned against illegal wildlife trade in the country.
Prof. Aliyu Jauro, Director-General, NESREA, while briefing  newsmen on the enforcement action carried out against illegal wildlife traders in Abuja, said the agency would continue to apprehend the illegal traders.
Juaro said that Nigeria was a signatory to the Convention on International Trade in Endangered Species (CITES).
He said the convention was domesticated by the enactment of the Endangered Species Act in 1985, now Endangered Species Control of International Trade and Traffic, Amendment Act, 2016.
According to Jauro, NESREA being the designated CITES enforcement authority in Nigeria, is mandated to enforce all environmental laws, guidelines, policies standards and regulations.
"The agency is also to enforce compliance with provisions of international agreements, protocols conventions and treaties to which Nigeria is signatory.
"So, the agency is warning those who engage in this ugly act to desist because we will continue to go after them and ensure that we apprehend them.
"It is dangerous living with some of these animals as pets because a lot of diseases today are attributed to it.
"It is also wrong keeping wild animals at home, they are supposed to remain in the wild, meanwhile, trafficking in wildlife will give Nigeria a bad name in the global community,'' he said.
Jauro said the essence of the enforcement was to protect animal species, particularly those that were endangered to prevent them from going extinct.
He said  the efforts were also to promote environmental protection in the country.
Jauro said that Nigeria was found to be a transit hub used by the traffickers, noting that some of the wildlife did not originate from Nigeria.
"If the enforcement against the illegal trade is not carried out, it may lead to selling to people who may want to take them overseas without permit which is contrary to the convention on CITES.
"The act can also as well, cause embarrassment to Nigeria among the CITES communities," he said.
NESREA seized 25 birds, 20 parrots, four kites and one crown bird from traffickers in Jabi area of the FCT.
The agency also arrested two traffickers who were engaged in the selling of the animals and handed the seized animals over to the National Park Service.