The National Environmental Standards and Regulations Enforcement Agency (NESREA) has won an award for excellence as Nigeria's most technologically advanced federal government agency for implementing and promoting the concept of environmental sustainability throughout the nation.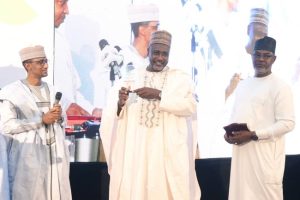 Prof. Aliyu Jauro, the agency's director-general, who accepted the prestigious GovTech Trailblazer Award on behalf of his organisation, used the occasion to urge Nigerians at all levels to follow environmental regulations in order to foster ecological safeguards across the country.
The goal of the event, which was held on Saturday, October 13, 2023, in Abuja and was organised by the Bureau of Public Service Reforms (BPSR), an institution under the Presidency, was to gather ideas for "advancing public service reforms through digital transformation."
As a result, the DG stated that NESREA would never tolerate environmental violations, asserting that "the agency remains committed to enforcing all environmental regulations without fear or favour."
He expressed his gratitude for the accolade given to his establishment, which he attributed to the vision and excellent leadership of those in charge of the agency's operations in combating environmental crimes.
In his remarks, Dasuki Arabi, director general of the Bureau of Public Service Reforms, praised President Bola Tinubu's government for its emphasis on empowering and bettering the lives of the average person on the street, notably through the use of smart technologies.
According to him, the current administration has incorporated many changes into the system, and he believes his manifesto is the key to a livable and thriving Nigeria.
By Etta Michael Bisong, Abuja